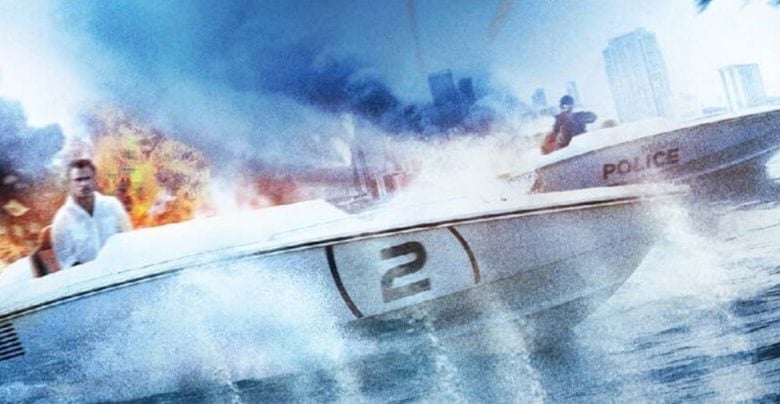 John Travolta as a speed boat racer mixed up in the drug trade? You have my attention.
Make it based on the life of South Florida boating titan Don Aronow, using five production companies, and four additional funding outfits, along with five script writers and a first-time director?
You have me on board!
In case you're not familiar with Aronow, he came to Miami in the early 1960s and became a titan in the boating industry. He created a series of high-performance watercraft companies that all became legendary:
Formula Marine
Donzi
Magnum Marine
Cigarette Speedboats
USA Racing
Additionally he went on to become a boat racing legend, winning dozens of races over the years.
"Speed Kills" matches most of Aronow's life story, but the main character's name is Ben Aronoff. That's probably due to both legal consideration and artistic license.
SPEED KILLS - Find it on Blu-ray Combo Pack, DVD, and Digital January 15!
While his story appears ripe for the big screen, this attempt foundered and was dashed on the rocks. Let's pick the debris off of the reef and see what led to this title getting deep-sixed before even docking in theaters.
0:01:12 SCEPTIC INTRODUCTION
I don't care how much of a criminal vibe you may want to establish, opening your film on the image of Ted Sizemore is a bad call. Having him dressed in merlot-colored Sans-a-Belt nylon slacks only makes things worse.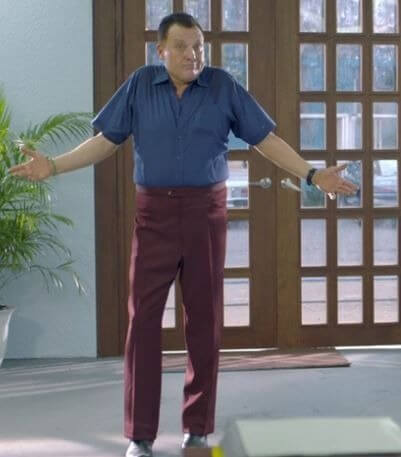 0:01:30 CHRONICLE SEIZURE
I have to inform you the year is 1987. I know this as a local, where the story is set. I have to inform you of this because the movie doesn't bother.
0:01:48 DEPLETED CHARACTER CONCENTRATION
Ted plays Dwayne, who is frustrated because he has been sent to buy a speedboat for his boss. He gets told to bring his boss in, from Ben Aronoff, played here by a very well put together John Travolta. Not that he looks "well," but with the hairpiece and extensive makeup he looks like "well, that took a long time."
0:02:01 BLUNT-FORCE DIALOGUE
Sizemore is frustrated when he's told this, and he gives this speech.
Dwayne: My boss — he took me from the gutter. Gave me job. Everything I have, everything I am – I owe to him. I'd do anything for my boss. Anything — and EVERY-thing. I'd never turn my back…on my boss."
Nice little monologue. I have no clue, however, what that has to do with him wanting to buy a boat.
0:02:26 ADVERSE CEREBRAL ACTIVITY
This speech has somehow angered Ben, and he then tells Dwayne he wants nothing more to do with his boss. Just half a minute ago he told him to bring his boss in.
In less than two minutes this film is already losing traction.
0:03:45 INVASIVE PATHOS
As Ben is seen driving off of his boat lot he's flagged down by an approaching car. The driver draws a pistol, and the gunshot brings up the credits. Well, that was easy! What a pain-free, short film!
0:04:32 IATROGENIC DIRECTION
Gah, false ending!
We flashback 25 years to New Jersey, with Ben on the phone. His construction business is being muscled over by The Mob. We learn about him via his narration. This means Ben is telling us his story…after we saw him killed. Mmmmm-kay then.
0:06:46 RUPTURED OPTICS
Ben moves to Miami, where his family is put up in an opulent hotel. He's hitting on the waitresses and we have to buy that they appreciate this, even though we have backed up a quarter century and somehow Travolta looks … older.
0:11:40 EXPLORATORY STORY INCISION
After watching some guys hot-dogging in their boats just off the beach, Ben takes a test drive on a muscle boat, falling instantly in love. He buys it and later is out in the bay to join an amateur race, against what he describes as, "a bunch of rich fat-cats and their toys." This ignores that Ben is Rich, just bought a new toy and is played by a thickening John Travolta.
0:18:07 ARTIFICIAL NARRATIVE STIMULANT
We follow quick scenes as Ben opens a boat dealership and begins racing, and then he becomes successful at his new ventures. Despite Travolta's now obvious hair piece becoming as dark as a spray-painted anchor he is bedding hot women. The segments actually seem interesting, except we get them delivered in brief musical montages.
0:20:30 WEAKENED IMPULSE
At a party Ben is brought over to sit in with famed Florida Mafia figure Meyer Lansky (James Remar, given little more to do than act cranky). They initially worked together in New Jersey. The minutes long scene between the mobster and Ben, with the Rustoleum tonsure, amounts to Lansky being mad that Ben became successful without their help.
Unclear arguments seem to be the rule of this film.
0:22:50 CHRONICLE SEIZURE
Another three-minute long montage of all the various races Ben has won, with stock footage from the '60s and the various race names he wins over the years floating into frame. This segment looks vastly more interesting than any of the personal drama we've been served so far.
0:31:32 INVASIVE PATHOS
We skim over six years of racing and winning, as well as the creation of his famed Cigarette Racing boats and team, to fixate on Ben's family drama. His son has a severe car accident, and the business is sliding into debt. Sexy. He then has to pay a visit to Meyer Lansky for a loan. This is NOT gripping stuff.
0:38:17 CAUTERIZED PLOT CAVITY
His son is now a paraplegic, so Ben with his Krylon coiffure takes him to the race track for a bonding session. They win a couple of races, and Ben hands his kid tens of thousands of dollars to go start a horse racing business. These heartfelt scenes of a neglectful father buying his children's love always get to me!
0:43:22 IRREGULAR PLOTBEAT
Skipping ahead a couple of years the boat business is booming, and Ben meets with Lansky again. Meyer seems very perturbed that Ben actually paid back the loan and interest six months ago, and earlier to boot.
Oh brother, Mobsters – am I right?! Welch on a loan and you get a leg broke. Pay the loan back and they get angry at you and muscle in on your business. It's like there's no pleasing these guys!
0:47:20 RATIONED FILMCARE
Lansky has a nephew named Robbie Reemer (Kellan Lutz, one of the Cullens from "Twilight") who is getting into power boat racing. He's also flirting with drug smuggling and has a high-speed water shootout with the Coast Guard. Following this he brings his boat in to Ben for repairs, showing the super-hyper-extra dramatic bullet holes in the transom, courtesy of the stickers the production bought at Advance Auto Parts.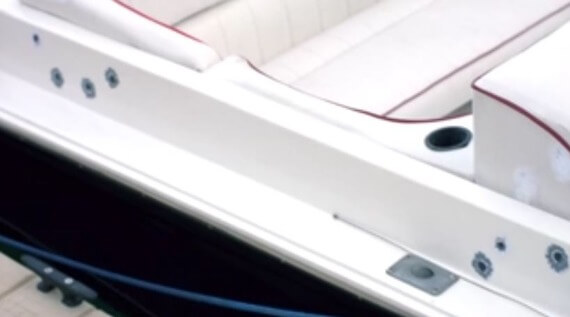 0:49:20 WEAKENED IMPULSE
Ben meets Emily, already being entertained by the Shah of Iran, at a Cuban nightclub. There's an overly long dancing sequence when all they continually do is peer over their shoulders at each other. This may sound like it is tedious, but only because it is.
0:56:42 VISUAL ADRENAL INFUSION
Standing in a rain storm ahead of the Miami-To-Nassau race Reemer stands on a jetty and glares at Ben. The next day we see the boats racing in seas which rival those seen in "The Perfect Storm." The CGI for these scenes is so cartoonishly bad they have less impact than the grainy racing footage from the 1960s we were previously shown.
1:04:38 INVASIVE PATHOS
Between his new home life with Emily (who knows how many years have lapsed) we follow as Ben has to go along with Meyer Lansky's demand that he participate in their drug trade. Bales of product are channeled through his warehouses, and he has to transport cash to banks in the Cayman Islands. These scenes carry all of the heft of TV police procedural fresh from a commercial break.
1:05:10 ARTIFICIAL NARRATIVE STIMULANT
We watch as Lansky collapses and dies at home, which followed a full minute of on-screen coughing. This film has as much padding as the captain's bench seats on Aronoff's boats.
1:09:12 EXPLORATORY STORY INCISION
First, another quixotic meeting. Robbie Reemer is taking over Lansky's operation and he wants to build their own boat factory, and they try to force Ben to just turn over the land for it. (How? Why? Huh?)
Following this (with little announcement in the narrative) Ben has started a new boat company, USA Racing. This leads to a personal visit from Vice President George Bush (Matthew Modine). There is zero reason as to why he is there to go for a ride on the new line of boats.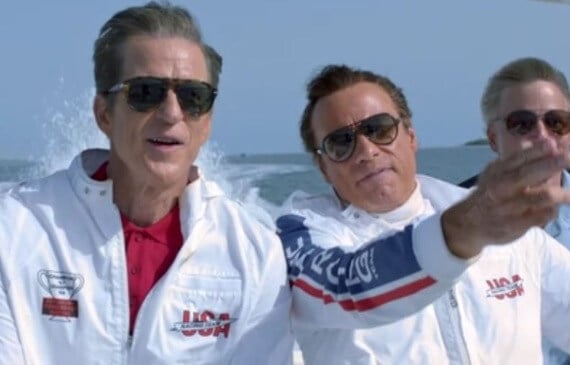 1:15:03 CRANIAL ATROPHY
After a segment showing the DEA closing in on the drug money we only then learn the George Bush meeting was to set up a deal for the Coast Guard to purchase 100 boats to combat smugglers who use Ben's other boats. Immediately Reemer's goons come in to Ben's office and force him to sign his company over to them.
This now means that The Mob is building the boats the Feds will use to catch them. Oooohhh – kayyyyy then….
1:25:55 SCRIPT GRAFT
The DEA investigation heats up and has all parties concerned. Another meeting is called with the Reemer group, and they want assets moved into Ben's name to shield from the Feds. Then he is threatened at home by one thug not to testify as he is about to be subpoenaed.
He sends Emily out of town, and Ben and his lawyer/partner hatch a plan to cash out and flee. This is all supposed to be gripping, building-to-a-finale fare but, as if in defiance of the title of the film, this moves at a glacial pace.
1:32:45 IATROGENIC DIRECTION
With everything coming to a head Ben goes to his office to collect items, and then the director decides to replay the opening scene with Sizemore. In its entirety. The climax of the film is over three minutes of footage we have already seen, leading to the death of Ben Aronoff … which is something we have already been shown. As endings go this repetition is a diffused finale. Call it, "Echo-climatic."
POST MORTEM
One of the end credits indicates the lack of cogent thought used for this project. The film is based on the book "Speed Kills" by Arthur J. Harris. That non-fiction account starts with the murder of Don Aronow and follows the investigation into the crime to figure out those responsible. The film tells his story leading all the way up to murder. So they bought the rights to a book whose content they barely used.
This film plays out like a series of storyboard scenes with little connective tissue. We lurch from segment to segment, never too sure what era we're in. (There was one title card before the DEA sale giving us the year.) It's something to behold to see a production given such fertile subject matter and turn it into something that opposes "compelling."
It takes some remarkable skills to incorporate so many people involved with so much material — powerboats, women, drugs, racing, The Mob, Miami Beach — and turn it into something that is completely boring.