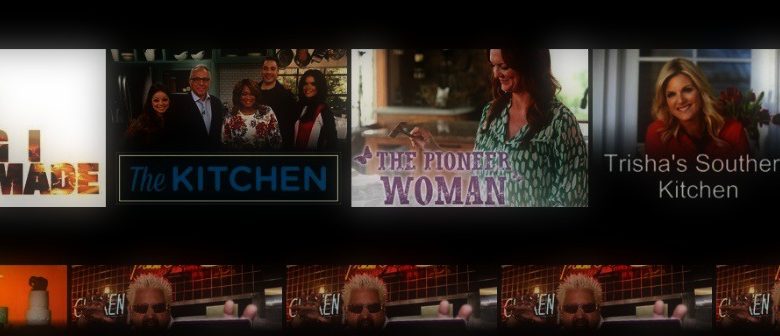 Between the rise of online content distributors like Netflix, Hulu and Amazon Prime Instant and the small yet historic decline in cable television subscriptions and usage, traditional content providers like dish and cable companies are trying to find new ways to bring in revenue and stay relevant to their customers.
Dish has been at the forefront of customer facing innovation with developments like the controversial Dish Hopper that lets you skip commercials on recorded shows. It would make sense, then, that it would be the company to use the technology from acquisition Sling to attempt the first live American broadcast of cable over the internet.
So how does Sling TV work and who is the targeted audience? I've spent the last week with the service to look into exactly these questions.
Sling TV 101
Just in case you haven't heard about Sling TV, here's everything you need to know. Dish has just gone out of beta for their new service which offers live cable TV feeds over the Internet to approved devices.  For $20 a month, you get access to a base set of 15 stations and their live feeds 24 hours a day.
Some stations include limited on demand capability like pausing a show live, starting it over or even catching up on episodes that have aired over the past 3 days. Unfortunately, this function is VERY limited. For an extra $5 a month, you can expand that access to include channel packages based around news, sports and children's programming:
$20 Best Of Live TV Package:  ESPN, ESPN2, TNT, TBS, Food Network, HGTV, Travel Channel, El Rey Network, Maker Studios, Adult Swim, Cartoon Network, Disney Channel, ABC Family, CNN, Galavision.
Sports Extra Package: ESPNU, SEC Network, ESPN News, ESPN Bases Loaded, ESPN Buzzer Beater, ESPN Goal Line, BEIN HD, Universal Sports Network, Univision TDN
Kids Extra Package: Disney Junior, Disney XD, Boomerang, Baby TV, Duck TV
News & Info Extra Package: HLN, Cooking Channel, DIY, Bloomberg
At the time this article is being written, Sling TV is available on PCs running Windows 7 or newer, Apple PCs running Snow Leopard 10.6 or newer, iOS and Android devices, all Amazon Fire TV devices and Roku devices from the model LT and newer.
Apps have been announced for the Nexus Player and the Xbox to be released in the coming weeks.  I've used the service on my Android phone, Amazon Fire Stick and my Windows laptop and tablet. I'll be reviewing my experience across all of these devices as well as the service itself.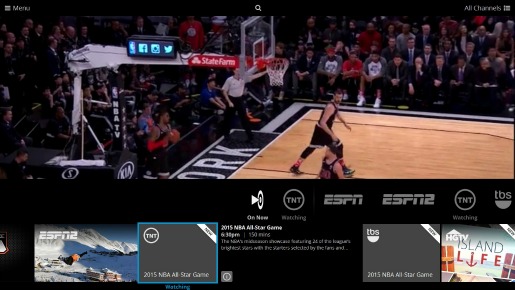 In terms of the Sling TV experience itself, it's a mixture of what you'd expect with watching live cable sprinkled with some mild innovation. There is a program guide, but it isn't laid out how you'd expect in a grid. As the screenshot above shows, the default view shows you what show you're watching and lets you scroll to the side on the bottom to see what else is on each channel at that time.
The upper bar lets you scroll across and see the upcoming programming for each channel. In some ways, it's a bit clunky, but there's also promise here. It's a bit refreshing to not have any need for remembering channel numbers anymore.
On channels that offer a 3-Day On Demand catch up, you can select the channel and what shows you want to watch. It's a serviceable use of the function, especially when you consider that the Sling TV experience really doesn't change no matter what platform you're viewing it on.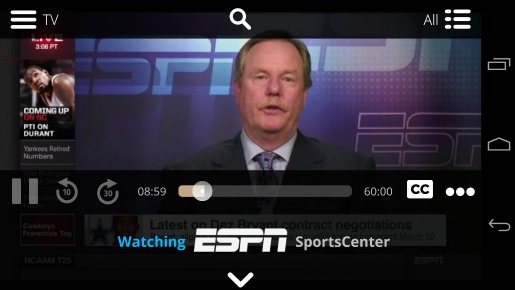 Speaking of the fact that the experience doesn't change much across platforms, I really should correct myself. In my experience using the Sling TV app on my Windows 8 laptop and tablet, Android phone (a OnePlus One, to be exact) and both a side-loaded version of the app as well as the optimized version of the app on my Amazon Fire TV Stick, I can confidently say that the interface of Sling TV doesn't change in any appreciable way no matter what device you're accessing it from, as evidenced by the screenshot of using Sling TV on my phone above.
This is mostly a welcome innovation in that Dish and Sling have found a way to create an interface that is intuitive for both touch and traditional remote/keyboard users. That is no small achievement and can't be overlooked.
All the clinical views above about the service are great, but how good is Sling TV in reality? As a cord cutter, my experience was honestly mixed. I was excited at the prospect of having a basic cable service at an affordable price. On my 7-day trial, I even expanded to try out the kids' package and the expanded news and info package.
As someone who isn't a big sports fan, I didn't bother with that expanded package, but my trial brought back the nostalgia of being a late teen/early twenty-something and watching the NBA's All Star Saturday night. It was glorious reliving the magic of the Dunk contest and the Three Point Shootout.  When it was all said and done, though, I was only left with that feeling of nostalgia satisfied and the cold reality of the service.
Technical Difficulties: Please Stand By
Sling TV is a fantastic product for sports fans looking at cutting the cable/dish cord, but everyone else is left in the cold. Sure, I can watch a ton of "Law & Order," "Friends" and "Seinfeld" reruns. I can also get that same fix and still have a vast catalog of content to dig through in my current subscriptions to Netflix, Amazon Prime Instant and Hulu+.
Travel Channel and Food Network have even started farming out parts of their catalog to the previously mentioned services, so Sling TV finds itself in the unenviable position of being a mostly redundant service.
Sure, I don't have access to the complete Disney catalog of children's/teen shows, but there are enough of them and good alternatives on my current services that Sling doesn't bring much new to the table.
The second cold reality, and most likely to be a deal breaker for many people, is that the performance of the service just simply isn't that good in terms of video quality.
I'm running on 40Mbps DSL in my home and almost never have issues getting HD video through Netflix, Amazon Prime Instant or Hulu+.  I routinely run 32Mbps download speeds when downloading games or movies I've purchased from services like VHX. For some reason, though, Sling TV has a hard time maintaining even a 2Mbps connection for video, which results in SD content at best quite often.
Thinking that there might be an issue with my wifi, I even plugged my laptop directly into my router and didn't experience much of an improvement in service.
Final Results May Vary
Before completely writing off the service, though, it's important to note that Sling TV has been available to the public with a free 7-day trial for just over a week, so I'm sure that part of this is due to an influx of new users trying out the service. This suspicion was further confirmed by reports that people have tried to get trials set up for hours and the Sling TV servers are just overloaded. The real test to be to see how the service works over the next month or so.
While I'm down on the content that Sling TV is offering, there is absolutely no doubt the service is aiming for the sports enthusiast. For some fans, having ESPN and ESPN 2 scratches the sports itch nicely. The sheer number of channels and specialized content offered in the expanded sports package is incredibly robust and obviously is where Sling TV is centered on catering to as of right now.
We're used to services iterating on one another, so while a new video service may have some new gadget or feature, the base idea of most video platforms is the same. Sling TV is really something new in that they are offering live TV over the Internet. I don't know if there's realistically a way to be prepared for the sheer amount of traffic bombarding their servers and initial bandwidth. I know we all expect things to run as smoothly as Netflix, but Dish is really trying something new here, and I think they deserve the latitude to learn from mistakes and improve on both content offerings and technology.
It's because of this that I didn't cancel my service after the 7-day trial. I want to see how Sling TV improves (or doesn't) over the course of their first month.
The Best Is Yet to Come?
Sling TV has already announced expanded programming partnerships with AMC, BBC and others.  How they'll roll out to Sling TV's programming is unclear, but their customer service said to expect the content to come by the end of the month. I can only assume that Dish will beef up the network infrastructure during this time as well.
It would be easy to declare Sling TV a failure of a service that doesn't fully appeal to existing cord cutters or cable subscribers considering that path. Just do a Google search and you'll find plenty of writers and outlets doing exactly that.
I can agree that as it stands right now, I don't know who would find the service appealing outside of the hardcore sports fan. At the same time, however, I don't think we've seen Sling TV in its final form.  I'm giving it the next month to show me something more and will report back with a final verdict.