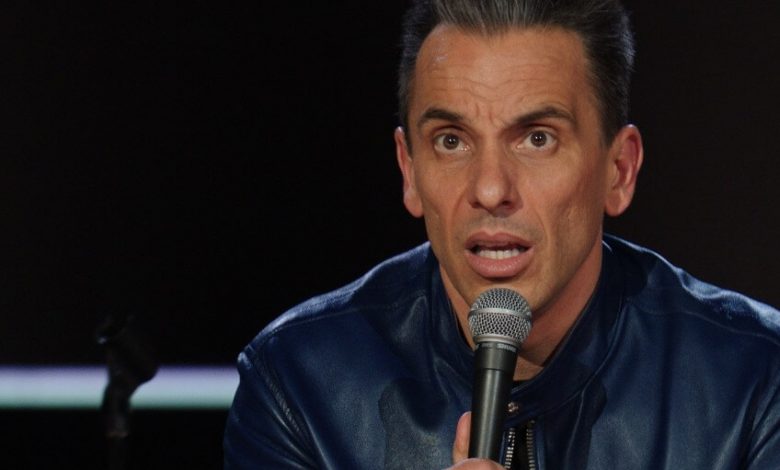 Sebastian Maniscalco didn't get political during his VMAs monologue Monday. He got cultural, and there's a difference.
The rising star, dubbed by Dennis Miller as the funniest standup working today, eschewed the de facto Trump bashing during his five-plus minute set.
The star of the Netflix special "Stay Hungry" did something far more shocking. No, he didn't twerk or kiss a man.
Maniscalco attacked woke Millennial culture, over and again. And the woke journalists who support woke culture in all its woke forms aren't happy about it.
Sebastian Maniscalco Opens the 2019 Video Music Awards
The "Green Book" co-star opened innocently enough, making a throwaway joke about the smoke surrounding his entrance. Next, he gave a quick shout out to Bruce Springsteen, a virtual god in New Jersey where the VMAs were held.
Then the comic went for the jugular.
He asked audience members to put down their smart phones and let the MTV crew capture the event.
Bang!
Then he mocked the very notion of "influencers," as if he had just binge-watched the two documentaries on the Fyre Festival debacle.
Bam!
He followed that up by trashing the very notion of "safe spaces," the scourge of our modern age.
This is happening for the first time: MTV, what they're doing is, they noticed that we're living in ultra-sensitive time, right? So if you feel "triggered," or you feel offended by anything I'm saying up here, or anything the musical artists are doing, they're providing a safe space backstage where you'll get some stress balls and a blankie. And also Little Nas X brought his horse, which will … double as an emotional support animal. So if you want to talk to your ushers, they will send you back to where that's happening. Personally, I would remove you from the arena, put you in your car, and send you home, but they opted with the safe space.
He wrapped by saying the night's runner ups won't be getting any "participation" moon trophies. And, if they're still angry about coming in second they should try harder.
Wow. Who saw that coming?
The crowd didn't know how to react, so they stayed more silent than most awards show crowds. Journalists grabbed the nearest paper bags and started breathing heavily into them.
RELATED: Jim Gaffigan Trashes Woke Film Critics
The uber-woke Refinery29 "reached out to MTV for comment" on Maniscalco's routine. What could Team MTV say? We hired a popular comedian who made fun of easily offended people?"
Heck, most Oscar and Golden Globes hosts mock the stars in the auditorium. Maniscalco simply did the same.
Cosmopolitan reports "the stand-up comedian has been getting grief on Twitter for his insensitive and not-that-funny jokes." Why, it's almost like social media is making his point.
Next, the far-left women's magazine tells us more about Maniscalco:
In case you were wondering what Sebastian does when he's not upsetting millennials, he's a comedian with a number of comedy specials, including Stay Hungry, which is available on Netflix.
He's also got a radio show. It's called The Pete and Sebastian Show and is basically just him and comedian Pete Correale chatting away.
… because radio show are rarely, if ever, feature hosts just "chatting away." The condescending tone is off the charts. What's not mentioned?
Maniscalco was the 10 highest grossing stand-up of 2018.
He'll be co-starring in "The Irishman," the new Martin Scorsese film drawing immense Oscar buzz. And this nugget, too:
In January, Maniscalco set a record for most tickets sold in a weekend for any comedy engagement in the history of New York City's Madison Square Garden.
The New York Times, a former newspaper, called him the hottest comic in the country.
That took all of two minutes to find via a Google News search. Maybe the Cosmo offices don't have access to that web site.
Sebastian Maniscalco Standup Special: Stay Hungry | Official Trailer [HD] | Netflix
Next, Bustle used the tried and true Twitter technique to attack the comedian. It seems Twitter "wasn't having it" following the monologue.
Of course, you could find Tweets to defend or attack any position, which makes using them less than reliable in this case. Still, if you want to defend a narrative, it's aces.
Vice.com rushed to declare the entire show "pointless," but it saved its harshest barbs for the comic's "regressive" routine.
Before his debut as the host, Sebastian Maniscalco told the Hollywood Reporter that like his comedy, the VMAs would be "absent of politics." That's unfortunate given the state of the world and also patently untrue given his regressive and hackneyed "participation trophy" and "trigger warning" jokes in his opening routine. There was one saving grace where presenters French Montana and Alison Brie went off-script to shout out immigrants and criticize the administration, but that was pretty much it.
Yes, a vague, factually inaccurate rant is better than a comedian mocking Snowflake culture at long last.
Maniscalco's routine comes the very day Dave Chappelle's new Netflix special, "Sticks & Stones," savaged Cancel Culture.
Something is brewing in Comedy Nation, and it's clear journalists aren't happy about it at all.