Interviews
'Dangerous Game' Director: Jon Voight Is the Consummate Professional
Sean McNamara dishes on murder mystery, how 'Reagan' avoids political traps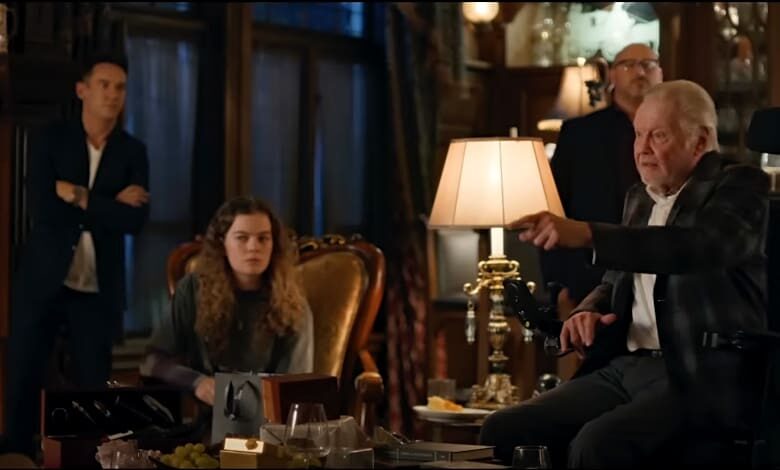 Audiences know director Sean McNamara for faith-friendly films like "Soul Surfer," "The Miracle Season" and "Hoovey."
It's why McNamara's latest, "Dangerous Game: The Legacy Murders" may come as a shock. The R-rated mystery has a sizable body count, genre-style gore and some diabolical twists.
"It's a complete departure," McNamara admits with a chuckle. "I wanted to try something new."
Mission accomplished.
DANGEROUS GAME: THE LEGACY MURDERS | Official Trailer | Paramount Movies
"Dangerous Game" follows a dysfunctional clan gathering at the behest of its wealthy patriarch, played by screen icon Jon Voight. They must set their squabbling aside when a voice compels them to play an immersive murder mystery game … with deadly consequences.
The body count rises while the remaining family members scramble to unlock the puzzle. It's like an Agatha Christie yarn, as told by horror maestro Eli Roth.
What isn't new for McNamara with his latest project? Working with Voight. The two collaborated on the "Baby Geniuses" franchise and the upcoming "Reagan" biopic.
"He's a consummate professional. He starts his research months before [the production begins]," McNamara says of Voight, who plays a KGB agent in "Reagan," set for a 2023 release.
Voight isn't just one of the best actors of his generation, says the director. He's a committed artist and collaborator.
"He sits with me and talks about the whole story, to make sure the whole story works. He's right there and he makes it a better film," he says, adding Voight's presence has an impact on his co-stars, too. "All those young people on the set, they're upping their game around somebody who's such a great star."
RELATED: THE UNDENIABLE REASON 'CLUE' BECAME A CULT CLASSIC
McNamara's film canon doesn't include any MCU fare or "Transformer" romps. He's a personal director, telling stories that uplift audiences. For "Dangerous Game," he entered a new realm of splashy FX and horror-approved makeup.
In one scene, Voight's character suffers an electric shock, forcing the actor to endure a sizable makeup update to show its impact.
"Every movie I do I have to learn something new .. that's what makes movies fun," he says, an enthusiasm Voight said attracted him to the project.
Even McNamara's extensive Hollywood resume may not prepare him for his next project. "Reagan," starring Dennis Quaid as the conservative hero, should inflame the culture wars anew.
GLIMPSE INSIDE THE REAGAN HOME WITH DENNIS QUAID.
The director suggests his approach won't be to blame.
"I'm not very political at all. I'm very independent," says McNamara, who notes "Rocky" director John G. Avildsen was set to direct the long-gestating biopic before he passed in 2017.
McNamara initially thought he was an awkward fit for the project. A quick read of the script changed his mind.
"It's a family film," he says, one that tracks Reagan's life from his childhood to his two terms in the Oval Office, and beyond. "Sixty percent of the film is [set] before he becomes president."
The film will be received warmly by Red State U.S.A., no doubt, but McNamara says the biopic doesn't shy away from the president's political hurdles, like the Iran-Contra scandal and the AIDS crisis.
The Gipper's remarkable career arc may come as a surprise to audiences.
"People hated him back in the '60s … and he was done with politics for four to five years, and then he became president," he says.
View this post on Instagram
The director's next projects expand his creative canvas beyond "Game's" death and destruction. One fact-based tale follows a couple who got married at the Dachau concentration camps, an "amazing love story," he says of Josef and Rebecca Bau.
He's also directing "Trinity," a big-screen adaptation of Leon Uris' tome concerning Ireland's fight for freedom during the late 1800s, early 1900s.
"Dangerous Game: The Legacy Murders" is the latest film to debut in both theaters and VOD. McNamara sounds hopeful that audiences will seek his movie out on both platforms. The mystery offers an original yarn, one without franchise ties or IP considerations.
"People want new material, they're hungry for new films, whether it's on film or digital," he says. "The appetite for film is huge."