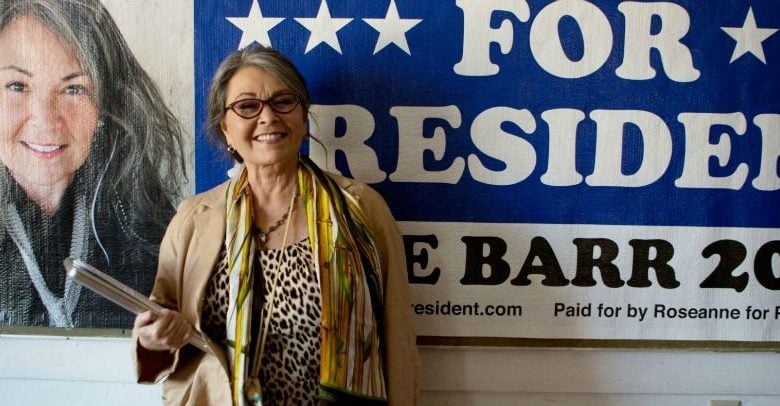 Many may not remember (or were even aware of it), but Barr ran in 2012 as the official nominee for the Peace and Freedom Party. Her campaign was obviously unsuccessful, but it was still a cultural oddity that got Barr plenty of press.
Roseanne for President - Official Trailer I HD I IFC Films
"Roseanne for President" is a firsthand account of Barr's presidential run, and it's surprisingly honest and human. Barr is shown, flaws and all, for the cameras. Her conviction seems pure and true, but we watch as she sometimes appears aloof about the practical steps needed when running for political
office.
The film calls out her lying a few times and even shows her smoking marijuana while driving.
We watch as Barr unsuccessfully runs for the Green Party nomination against Jill Stein (the Green Party nominee once again this year). It's easy to see why Barr lost. Refusing to travel or shake hands, and working with a clumsy campaign manager, Barr loses to Stein in a near landslide.
The comedienne then shifts gears towards the Peace and Freedom Party. Off to election day she goes against President Barack Obama and Mitt Romney.
We know how the story ends, but the journey is still surprising and engaging, mostly thanks to Barr. While the film doesn't try to convince you of Barr's progressive politics, or even her sanity, it does reveal her seriousness during her strange 2012 presidential run.
Presidential Candidate Roseanne Barr: 'I Am the Only Serious Comedian In This Race'
It's actually a fun and light ride, and Barr ends up not being as intolerable as she sometimes can be (like when she infamously sang the National Anthem in 1990).
"Roseanne for President" delves into Barr's past and what made her the controversial figure she is today. We learn from family members about her stint in a mental institution. We also discover the culturally progressive ideas she fought to include in her landmark sitcom, "Roseanne."
"Roseanne for President" is, however, surprisingly inconsequential. Certain opportunities seem to be lost on the filmmakers. When Barr is going through the steps to earn a third party nomination, it's a great peek into a world not normally highlighted or seen at all.
DID YOU KNOW: Roseanne Barr received over 67,000 votes in 2012. She admits in the documentary to not being able to write herself in when voting, so she voted for Obama.
The film could have shown the real struggles in being a third party politician and the bias various facets of the election process carry against them.
Alas, that world is hardly glimpsed. We mostly watch Barr rant into the camera and foolishly bumble her way to a loss for the Green Party nomination.
It also would have been beneficial to see more of Barr's coworkers speak of her years in Hollywood as the divisive artist she is. We hear from people like Michael Moore and Rosie O'Donnell, but what about John Goodman, Tom Arnold, or even Laurie Metcalf?
What do they think of Barr, then and now?
In the end, "Roseanne for President" is still an intriguing 90 minutes for anyone interested in the strange world of politics. Barr may not have become president in 2012, but she got a documentary out of the whole affair that humanizes her more than many of her political viewpoints or even recent interviews.