Interviews
Remembering Rachel Bloom's Golden Podcast Moment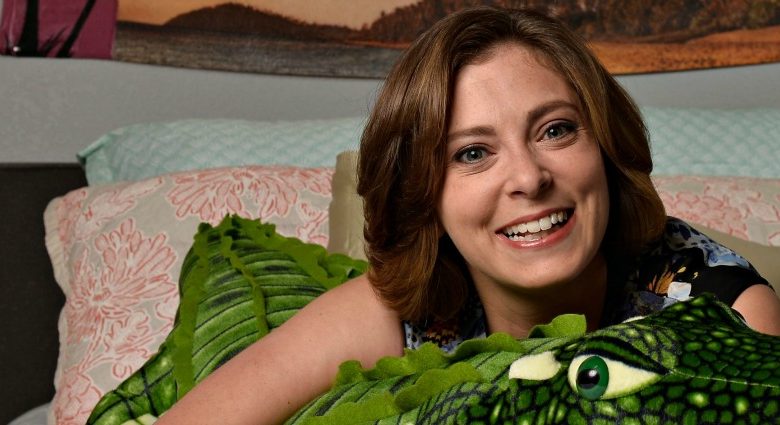 Listeners of the Radio Titans podcast network and its "Pajama Party" podcast knew for a long time Bloom was going to be spectacular.
.
As a guest on "Pajama Party" in the fall of 2014, Bloom came in to do her energetic rendition of Broadway's "Rent" theme song in the guise of every lead character – including performing the dialogue.
This podcaster had seen her do the song onstage at the Upright Citizens Brigade Theater in Hollywood the week before in "Dream Role." The show's performers took turns doing a song or scene from the role of their dreams.
Bloom showed up at the Titans studio in downtown Los Angeles late after getting stuck in traffic. She had to contend with more than just construction noise bleeding into the the studio. She needed to figure out how to charge her iPhone and then get it rigged in a way that the backing track could play.
After all the obstacles, she cut loose at about 40 minutes into the show. Her rendition of the song was absolutely electric and gave an early glimpse of the star about to be born.
Get a Job, Pay the 'Rent'
The rest of her interview was hilarious, too, including stories of how she grew up singing songs from musicals, an awkward encounter with Alec Baldwin while interning on "Saturday Night Live," her post-grad, pre-fame telemarketing jobs and an analysis of the "Rent" story line where she realized that the characters really just needed to get a job.
"As a child, all I listened to was show tunes, and when you're 11, 12 , or 13 of course you're craving release," recalled Bloom. "And I'd never listened to rock and roll, so the closest I got was the soundtrack to 'Rent.'
"It came out in 1996 [when she was nine] and I didn't understand most of the references. I kind of knew what AIDS was, but I didn't understand about squatters in Alphabet City and didn't know the show came out six years after its story took place and no one was even squatting anymore. The show was just an angry release, and my dream was to be the physical embodiment of 'Rent' and that's what inspired the performance."
West Coast Neurotic
Bloom, 28, grew up in the town of Manhattan Beach, about 30 minutes outside of LA, "to neurotic Jewish parents who wouldn't let me go out in the sun." She recalls feeling paranoid and having an urge to be different even at a young age, because everyone else in her oceanside town was happy and she was too self-conscious to blend in.
Yet her parents supported her showbiz dreams, sending her to college at the Tisch School of the Arts at New York University. There, she came to realize just how ridiculous the "Rent" storyline was, as many of her performance professors had been part of the performance-art scene in the city's hardscrabble Alphabet City in the late '80s and waxed nostalgic about it frequently.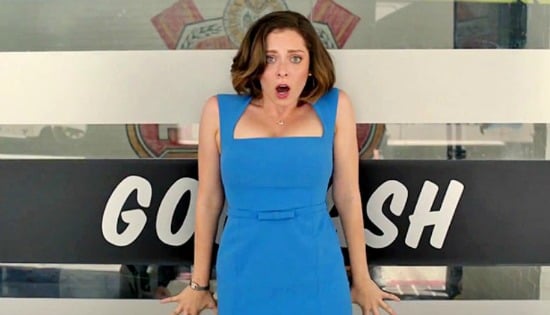 "To me, it's amusing that Jonathan Larson, the whole time he wrote 'Rent,' had a job at a diner, and wasn't a squatter," said Bloom. "That's one thing that bugged me about 'Rent' once I graduated college. Get a job! Why don't you get one like waiting or telemarketing?"
DID YOU KNOW: When Rachel Bloom wrote a sketch for 'Robot Chicken' she would typically Google it to make sure no one had written something similar before.
Despite her dream of living like the play's characters, Bloom followed her own advice and did get a job right after graduating. Working telesales for a string of East Coast theaters and symphonies, she recalls one particularly awkward encounter with a potential customer for the Pittsburgh Ballet.
"I was calling people who saw 'The Nutcracker' 15 years ago, selling subscriptions," she recalled. "One time I called a woman who said, 'I really want a subscription, but my daughter got diagnosed with leukemia. I said 'Bye, have a nice day,' and she kept trying to say she'd buy one because her daughter loves ballet. I was like 'Save your money for treatment!'"
The Big (Chicken) Break
Eventually, Bloom was hired as a writer for shows including Adult Swim's "Robot Chicken." She was also eagerly awaiting word about whether a musical comedy show concept of hers would land at Showtime.
Instead, it landed at the CW and the rest is history.
But back in 2014, the admitted science-fiction buff did have one other ironic connection to her beloved play, "Rent."
"I've got albums for sale on my website, and a bunch of T-shirts saying '[Expletive] Me, Ray Bradbury,'" she said. "I'm hoping this show will move some, 'cause I gotta make rent."
To hear the episode, which in addition to Bloom's interview and wild rendition of "Rent" includes a funny interview with Upright Citizens Brigade star Sean Conroy, an opening singalong to the '70s hit song "Let Your Love Flow," and two songs by LA band The Letters Home, visit Radio Titans. For more celebrity interviews visit Radio Titans' podcast home page.
---
Carl Kozlowski is founder and Chief Creative Officer at Radio Titans (www.radiotitans.com), and host/cohost of its shows "Grown-Ass Men," "Pajama Party," "The Koz Effect" and "Kozversations," plus Chief Guest Booker Winner of the world-famous Laugh Factory's "America's Funniest Reporter" contest.