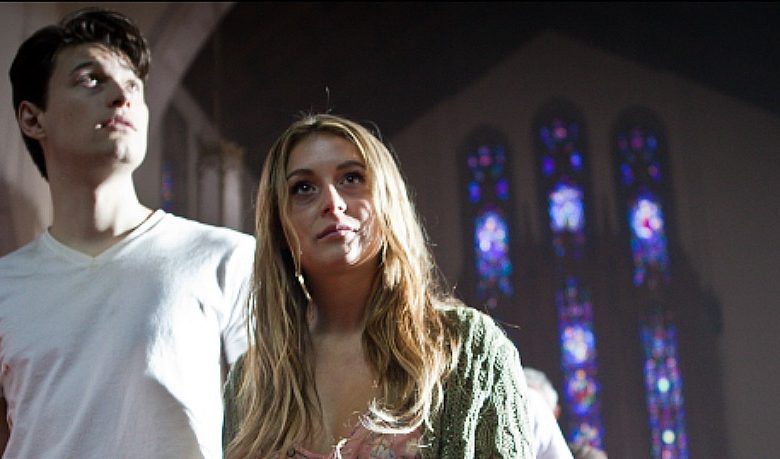 It wouldn't be the first time those genres collided. Remember "The Passion of the Christ," he argued.
La Scala eventually convinced studio executives to back a horror film based on Revelation. Pop culture's thirst for post-apocalyptic thrillers suddenly took a spiritual turn.
The PG-13 film, starring Alexa Vega, Shaun Sipos and Johnny Pacar, follows a group gathered for a pal's wedding. The celebration ends when horrors straight out of the Bible's end-of-times prophecies seize the planet.
The Remaining Official Trailer 1 (2014) - Alexa Vega Horror Movie HD
La Scala tells HollywoodInToto.com he was on the set up the upcoming "Paranormal Activity" sequel when he wondered what that franchise's horrors would look like on a global scale.
"Hell falling from the sky," he reasoned, and he quickly thought back to Revelation. "Demons released from the pit to torment mankind … it's in the Bible."
Still, blending faith and horror offered a challenge on several levels.
"Horror and faith-based. It's almost an oxymoron. How does that work?" he says. "I knew I wanted to reach the faith-based audience, but I didn't know I could."
The script eventually went to a few youth ministers, and their positive reaction pushed the project forward.
Working with a studio known for its faith-friendly approach meant some creative limitations. An R-rated feature likely wouldn't work, nor would a project that clashed with the studio's mission. La Scala says those boundaries unleashed his creativity,
The opening sequence originally had birds smashing against the wall en masse, the first sign of awful things to come. That didn't jibe with the Biblical narrative, so the film delivers a similar shock early in the film to capture that sense of impending doom.
"The Remaining" combines "found footage" and conventionally shot sequences, a rare compromise between conflicting storytelling modes. La Scala wanted the former to give the story an immediacy to grab audiences. He demanded a more traditional approach to flesh out the characters, something notoriously hard to achieve with found footage techniques.
Amityville: The Awakening Trailer #1 (2014) - Bella Thorne Horror Movie HD
La Scala is prepping a film project based on the remarkable final years of Zach Sobiech, the YouTube sensation who died at 18 after a brave, and public, battle with cancer. He also is looking forward to the Jan. 2015 release of "Amityville: The Awakening," a franchise re-imagining he wrote last year. A new family, including a child hooked up to a ventilator after an accident, moves into the haunted house in question. The boy isn't expected to ever wake up, but shortly after moving in he shows signs of life. Is it a sign from above … or below?
"The idea of doing a new version came from an article in the newspaper about the house being put up for sale," he says of a film that still taps into the franchise's established mythology. It's not another faith-based feature, but he says audiences won't have to look hard to see those elements.
"It offers a lot of questions about faith and God," he says.