Interviews
Tough Guy Kilpatrick Laughs at Industry's Politics

You know bald, burly Patrick Kilpatrick from dozens of tough guy roles, but he started his career as a writer.
The man who later stood toe to toe with the likes of Arnold Schwarzenegger, Pam Grier and Bruce Willis once worked as both a journalist and magazine ad scribe.
He doesn't see writing as being much different from the career he's called his own for nearly 30 years – character actor for hire.
"The processes are very similar .. if you're going to write successful advertising, you place yourself empathically in [the shoes of] who's going to buy a product. It's somewhat akin to the process of acting," Kilpatrick says.
The actor brings his career full circle with "Dying for Living: Sins & Confessions of a Hollywood Villain & Libertine Patriot
," captures his colorful career arc.
It's the first of a two-part memoir, the second installment hitting bookstores next year. The confessional tomes revisits his time in Hollywood, his complicated youth and anecdotes from his endless hours staring down the industry's biggest stars
The writing came easily for him, given his background. The hard part? The "endless proofing," he says. After all, a career with 170-plus films and TV show appearances doesn't edit itself.
NEVER SURRENDER Official Trailer (2009) - Hector Echavarria, Patrick Kilpatrick, James Russo
The character actor's extensive resume includes films like "Minority Report," "Eraser" and "Death Warrant." Along the way he's bumped into leading men who didn't know their lines and endured pay disparities that run afoul of Hollywood's progressive groupthink.
"I'm always grateful I continued to work … I was sometimes chagrined by the fact that the guys I'd go head to head with … got vastly superior amounts of money," he says. "I'm not crying the blues … there's no bitterness attached to this," he says.
"If I was quarterback of the team, I'd make sure my lineman were paid significantly well," he adds.
Then again, the biggest stars endure such dramatic career shifts it's a challenge to process it all.
"Movies is a really strange business. It's grace infused, but also hellbent with a lot of hypocrisy," he says. "You're a god in one place and a piece of excrement in another. It's a bizarre world most people aren't equipped for."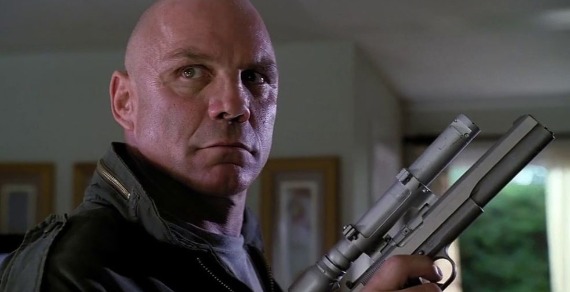 His memoir, he says, addresses it all "in a ruthlessly loving manner." It also shares the actor's right-of-center politics, details that almost didn't make the final edit.
"When I first wrote the book I had politics in there, and my agent said, 'take the politics out.' Then Trump was elected and they said, 'put the politics back,'" he says.
The memoir reflects his take on Hollywood's Leftist views, founded on "anti-American and anti common sense and intellectually dishonest" arguments.
"It's ironic that people talking about the McCarthy Blacklist will instantly isolate and sever from someone who doesn't embrace the orthodoxy of liberalism," he adds.
RELATED: Is This the End for Lena Dunham, Culture Warrior?
The actor describes himself as socially liberal, a man who entered Hollywood as an "Eisenhower Democrat."
"It doesn't take much to be perceived as pro right wing [in Hollywood]," he says. "This place would turn anybody right wing. It's so crazy left … you have to laugh at it. I take it with a lot of fun."
He addresses director Oliver Stone's brand of Leftism in "Dying for Living," including Stone's Showtime series "The Untold History of the United States."
"I revere him as a filmmaker," he says, but watching his series and its "fundamentally wrong ideas" didn't sit well with him.
"They create cynicism about the American experiment," he says.
Up next for Kilpatrick? The tentatively titled, "Active Shooter," a project that reflects his ability to go beyond acting credits. He's the writer and director, but it's taking time to tame the 500 hours of footage already shot for the project.
"It'll be brilliant or it won't be released," he says of a film probing the mind of an active shooter.
Active Shooter Movie - Director's Prelude with Patrick Kilpatrick
Kilpatrick has no intention of retiring from acting. If anything, being on screen for decades has sharpened his craft.
"You've confronted so many varieties of situations, nothing really throws you," he says. "I came to acting with a lot of gifts. Not all by my design. [I had] the mind of a writer and an athlete's body."
Now, with so many credits on his resume, "I think I'm at the height of my acting powers right now," he says.