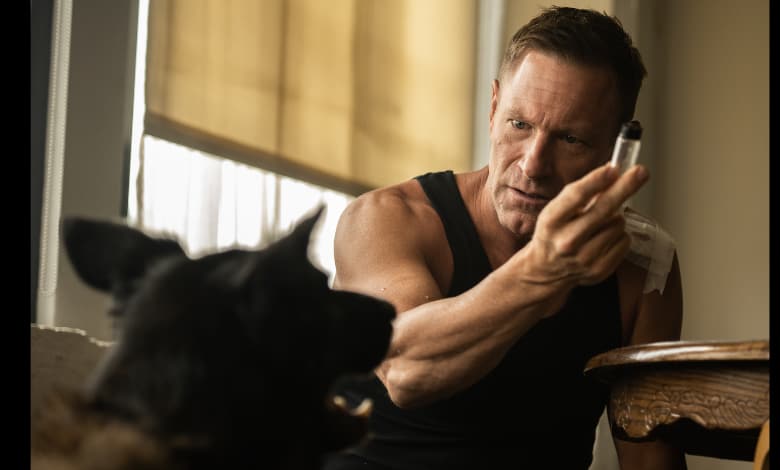 We don't deserve dogs.
The main character in "Muzzle" knows that better than anyone. Aaron Eckhart's broken cop will do anything to avenge his canine partner in the grand John Wick tradition.
Except this isn't a gruesome shoot 'em up but a slow-burn character study told with confidence and style. Some flaws nag at us, like a villain who screams for more screen time. It's still a welcome addition to the cop genre, made richer by Eckhart's dialed-in performance.
Muzzle Official Trailer | HD | RLJE Films | Ft. Aaron Eckhart, Stephen Lang
Officer Jake Rosser (Eckhart) opens up to no one but his partner, K9's own Ace. Jake and Ace pitch in on what appears to be a routine stop that quickly spirals out of control.
A car explodes. A fellow cop is injured. And, when the smoke settles, poor Ace has made the ultimate sacrifice.
Jake is crushed, so much so that he takes out his rage on an EMT. Guess what part of the tragedy goes viral?
His fellow officers have little interest in finding out exactly how Ace died or who pulled the trigger. So he pushes forward on his own, enraging his by-the-book commander (Nick Searcy) and reminding everyone his PTSD has never been resolved.
He reluctantly adopts a new K9 officer, Socks, with a troubled past. Socks isn't keen on learning the ropes, though, and Jake's attempts to learn the truth behind Ace's death get him deeper in trouble.
Director John Stalberg Jr. joined me on the Matt's Movie Reviews Podcast to talk about his new film 'Muzzle', a crime thriller that stars Aaron Eckhart as a LAPD officer who goes rogue in search for those responsible for the death of his K9 partner. https://t.co/57fvD8SJzJ pic.twitter.com/h0MhxngrEK

— Matt's Movie Reviews (@MattsMovieRev) October 1, 2023
"Muzzle" pays tribute to our canine heroes, but the story reaches beyond our furry friends. Loyalty, betrayal and the thin line between being a good cop and having your career implode in a flash bleed into the frame.
Director John Stalberg, Jr. captures the oozing rot of Jake's Los Angeles beat, an approach that doubles as a sobering op-ed. Tent cities abound, and the homeless subculture is key to fighting crime in the City of Angels.
Sadly, those visuals no longer shock us.
Stalberg's camera finds fresh ways to approach the cop genre, but it also spends time on Eckhart's tightly framed mug. Jake wears his pain for all to see, and his ties to his neighbor and love interest (Penelope Mitchell) offer clues to his tortured soul.
Eckhart, an underrated actor, fills in the rest with every measured scowl.
View this post on Instagram
"Muzzle" shares the inner workings of a standard K9 unit down to the way their fellow officers pay their respects to fallen dogs. That sets it apart from recent cop films, and none of it is given a Hollywood gloss.
We'd love to see more of Searcy, but the same holds true for Stephen Lang's modest role as a K9 trainer. Eckhart's scenes with Lang hint at a depth the film sets aside for the criminal conspiracy in play.
"Muzzle's" screenplay is blunt and genre friendly, but just when you think it's bound to serve up something cliched it turns in a fresh direction. We're also spared pat scenes of Jake and Socks bonding.
Grit is the order of the day, and "Muzzle" more than delivers on that front.
HiT or Miss: "Muzzle" is a sharp, involving cop drama powered by Man's Best Friend and an impressive turn by Aaron Eckhart.