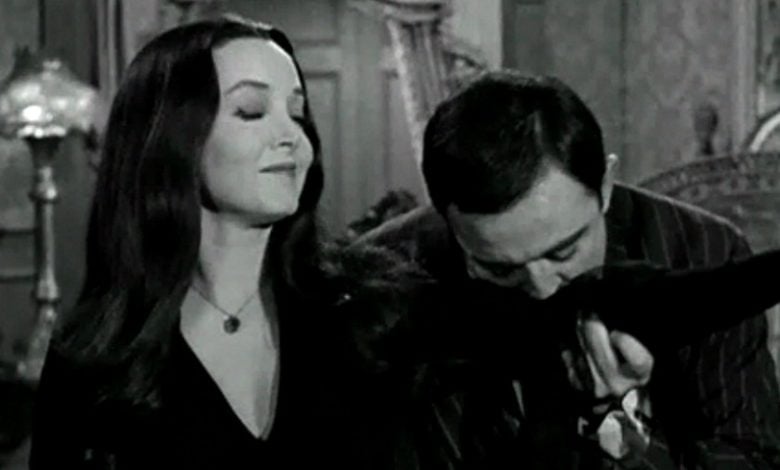 Noted psychotherapist, author and teacher David Richo wrote a book titled, "How to Be an Adult in Relationships: The Five Keys to Mindful Loving
." In it, he talks about how so many relationships collapse into an Adult-Child dynamic.
Typically, someone is acting out and being childish, while the other person is scrambling to maintain some kind of "adultness."
I love the theory, but a challenge with it is we don't have a lot of models on small or big screens that portray what an Adult-Adult relationship looks like.
That's why "The Addams Family" was such a revelation. Then … and now.
Why Morticia and Gomez Matter
Women were often treated as mere sex objects in the past. In today's more enlightened culture, writers often swap gender roles where the woman is the independent soul who meets the man who teaches her something about love and community.
Last year's smash "Jurassic World" is a great example of this gender swap.
Warren Ellis ("Red," "Transmetropolitan," "Hellblazer") said this about Daniel Craig's first foray as James Bond:
"In 'Casino Royale,' James Bond is the Bond girl. Look at the way they even show him emerging from the ocean like Ursula Andress. Sexual torture, too, if less creepy-glam than being stripped and painted gold. Vesper Lynd is Bond: never not in control."
I'm not sure that simply swapping gender roles is an improvement over what was.
Think about the relationships we were exposed to when we came home from school and flipped on the TV.
First you have Jeannie (Barbara Eden) and Major Anthony Nelson (Larry Hagman) from "I Dream of Jeannie" fame. Their bond would fall into a Master-Slave (Dom/Sub) relationship by today's standards. She's at home all day in a negligee, and he's off to work on a space program. The conceit of the show is that she has "magical feminine powers" that must be contained at all costs.
RELATED: This 'Affair' Shows Far More Than Sex
Speaking of powers to be contained, next you have Samantha on "Bewitched." She's a powerful witch married to the milquetoast Darren. Once again, the star's feminine mystique must be put on lock down.
Not to mention the almost asexual relationship between Ward and June (how they produced two sons one may never know) from "Leave It to Beaver." That show's neutered romance was artfully skewered in the 1998 movie "Pleasantville."
Pleasantville - Original Theatrical Trailer
How about Ricky and Lucy? I can't think of a better example of an Adult-Child relationship than "I Love Lucy" and its core duo. It's a textbook case of a naughty child (brat) constantly in trouble with her "daddy" and almost getting spanked.
Freud would have had a field day with that show.
What about the almost ridiculously sadistic/masochistic couplehood portrayed in "The Honeymooners?"
Love, American Style
Within all this mess of the '50s and '60s relationship mores comes "The Addams Family." Mortica and Gomez (Carolyn Jones and John Astin) represent an amazing relationship. Here is a couple that is clearly in love with each other. They are openly affectionate. Their romance is still alive even after two kids. They regularly flirt with each other to the point where they then touch on camera.
Remember how when Morticia speaks French, Gomez goes crazy and starts kissing up her arm?
Gomez' Jealousy (Addams Family)
What's most remarkable about the show and their relationship, even after all this time, is that they truly do love each other as equal partners. They respect one another's decisions and check in with each other, even leaning on each other,
They have the others' back. Always.
RELATED: How 'Game of Thrones' Revolutionized TV
The feminine mystique that is so clearly on lock down (or on ice) elsewhere on TV is on full display with Morticia and Gomez.
He never shames her or attempts to dominate her, and yet he retains his full power. He's clearly an exception to the rule stated by Daryl Van Horne in 1987's "The Witches of Eastwick"
Daryl Van Horne: [Men are] scared. Their dicks get limp when confronted by a woman of obvious power and what do they do about it? Call them witches, burn them, torture them, until every woman is afraid. Afraid of herself… afraid of men… and all for what? Fear of losing their hard-on.
That's something Gomez isn't worried about, and he lives with an actual witch.
It's amazing how revolutionary their relationship was back then, and I'd argue, still is today.
I think Richo would agree.