Industry News
Opinion
Mask-less Fallon: 'Put on a Mask' Indoors
Fading 'Tonight Show' star sings cringe-worthy ode to wobbly medical advice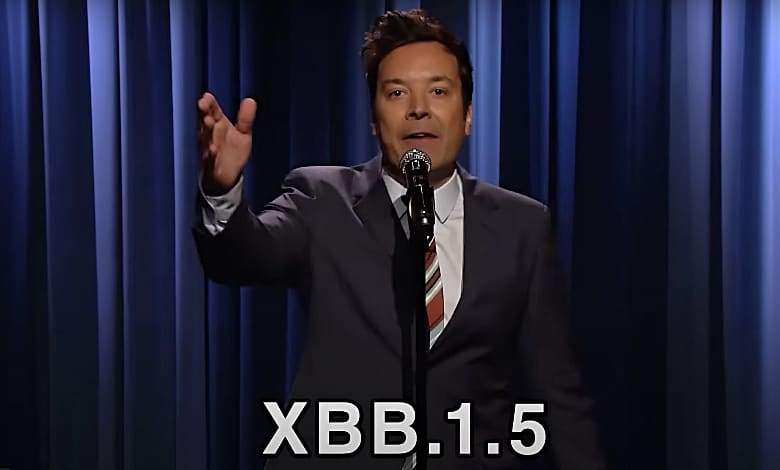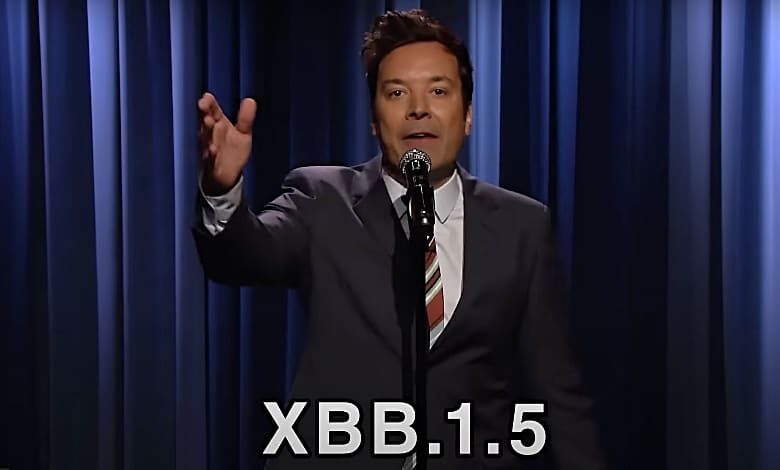 Radar Online's recent "Tonight Show" exclusive is making more sense every day.
The site claims NBC is having second thoughts about NBC host Jimmy Fallon's massive contract.
Nearly 19 months after the Peacock Network handed Fallon a whopping $80 million five-year contract extension, The Tonight Show is drawing under 1.3 million eyeballs — less than half the audience of upstart Gutfeld!
"The Tonight Show" with both Johnny Carson and Jay Leno ruled late night television for decades. Fallon seemed to take the baton smoothly in 2014, drawing 11 million viewers shortly after replacing Leno.
Now, Fallon's "Show" trails not just Fox News' "Gutfeld" but "The Late Show" with Stephen Colbert and sometimes "Jimmy Kimmel Live."
This might explain why.
Jimmy Performs a Tiny Song for COVID Variant XBB.1.5 | The Tonight Show Starring Jimmy Fallon
Fallon broke out a new song Jan. 5, one dedicated to the latest COVID-19 variant.
"There was Alpha, then Delta, then Omicron next, but this latest variant might be the best. It's XBB.1.5, another brand of Covid-19 has arrived," the liberal comic sang. The unfortunate lyric came a bit later.
"Put on your mask when you're inside a facility. It could be a robot from a "Star Wars" trilogy."
Except Fallon recorded the song in his "Tonight Show" studio, which is enclosed. And, chances are, no one else in the studio was wearing a mask at the time. And Fallon hasn't worn a face mask even while recording the show at the height of the pandemic lockdowns.
Call it the Left's "Do as I say … " playbook, perfected by Democratic hypocrites like Gov. Gavin Newsom and big city mayors like Eric Adams (New York) and London Breed (San Francisco).
Mask up. Stay home. Avoid loved ones. March for Black Lives Matter and then return to your masked existence.
I think this is a hostage video. Watch his hand motions carefully, he's asking for help. JIMMY BLINK TWICE IF YOU WANT OUT!!pic.twitter.com/zNrlzqnzTT

— Chrissie Mayr🇺🇸 (@ChrissieMayr) January 8, 2023
Fallon's song is peak cringe in too many ways to count, but Fallon's mask-less visage was hard to miss. Chances are his increasingly small audience got the message, too.
It's hardly the only time Fallon pimped mask usage without actually wearing one himself. This 2021 Christmas song, warbled by Fallon and pop superstars Ariana Grande and Megan Thee Stallion, also featured extreme mask lectures.
It was a masked Christmas, we stayed in the house
We covered our nose and covered our mouth
But it's Christmas time
We'll be in line for a booster (For a booster)
It was a masked Christmas
We hopped on a Zoom (Hopped on a Zoom)
I can only get WiFi in the laundry room (Laundry room)
But it's Christmas time
We'll be in line for a booster
Jimmy Fallon ft. Ariana Grande & Megan Thee Stallion - It Was A…(Masked Christmas)
They sang the song maskless, of course. And here's betting they didn't follow their own instructions.
Dr. Anthony Fauci decried wearing masks as meaningless before he suddenly did a 180 early in the COVID-19 pandemic. Dr. Fauci shared more detailed reasons why in emails shared early in the pandemic.
"The typical mask you buy in the drug store is not really effective in keeping out the virus, which is small enough to pass through material. It might, however, provide some slight benefit in keeping out gross droplets if someone coughs or sneezes on you."
Since then, studies suggest masks (and mask mandates) have little effectiveness, especially given how easily transmissible the latest variants have proven.
Cases in Taiwan are surging again, despite the fact that they're one of the last places on earth with an indoor mask mandate, and despite the fact that 87% of the population is fully vaccinated

It's hard to be more wrong than experts who said interventions could stop COVID pic.twitter.com/1ioNSdXzPY

— Ian Miller (@ianmSC) January 7, 2023
Some of the YouTube comments underneath the mask-less song proved funnier than anything Falling sang.
It's like watching television in the Soviet Union.
"This comedy sketch has been brought to you by Pfizer. Thank you for tuning in!"
Can you imagine being forced to perform this and take it seriously? This is what it looks like to be owned