This is a review of the fourth season of "Homeland," which premieres two new episodes at 9 p.m. EST Oct. 5. The following reveals some major spoilers from the show's first three seasons.
Season 4 finds Carrie Mathison (Claire Danes) as the CIA's new Station Chief in Kabul, Afghanistan,and Carrie's mentor Saul Berenson (Mandy Patinkin) struggling in his new life as a military contractor. Carrie, on the other hand, is thriving in her first leadership role. Her team respects her, as seen by them celebrating her birthday with a cake.
Inscribed on the cake is her team's attempt at an affectionate nickname, "The Drone Queen." Carrie's not sure what to make of it, and neither are we.
"Homeland" has its roots in the Israeli series "Hatufim" (Prisoners of War) and doesn't shy from exploring the grittiness in prosecuting the war on terror. The morally ambiguous use of drones was an underlying theme of Seasons 1-3 and continues in Season 4.
At its heart, "Homeland" explores the relationships between flawed but experienced mentors and their talented protegees; neither of which are under any illusion about the nature of betrayal. That tension makes for great television and can trace its thematic lineage all the way back to "The Paper Chase."
In addition to Carrie and Saul, we delve deeper into Dar Adal's (F. Murray Abraham) relationship with his protege, Peter Quinn (Rupert Quinn), who's been struggling with his role as an "enforcer" since he killed a child early in Season 2.
Carrie has a potential new mentor in Martha Boyd (Laila Robins), the U.S. Ambassador to Pakistan who's tough as nails and can run stride for stride with Carrie in the strategy department. She smartly points out that we may be creating more terrorists than we're dispatching: "The 'Kill List' when I started was seven, now it's over 2,000!"
And Carrie herself may have her first protege in Fara Sharazi (Nazanin Boniadi) who we met in Season 3 as a young CIA intelligence officer who hasn't mastered the art of seduction needed to thrive in her role.
We see her awkwardly try to turn newcomer to this season, Suraj Sharma ("Life of Pi") who plays a medical student whose family is killed during a drone strike. She fails miserably, and it's up to Carrie to save the day. She knows he knows something.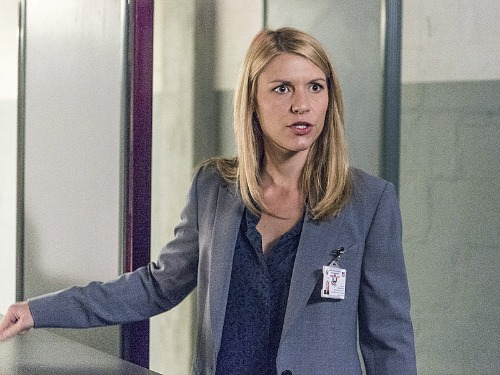 We learn in the first hour of Season One that Carrie is willing to do anything to stop another terrorist attack from happening within the U.S., including making a pass at Saul. He just caught her red handed illegally wire-tapping the home of Sergeant Brodie (Damian Lewis), a Marine officer who's recently been rescued after eight years in captivity in Afghanistan.
Saul deflects the pass with a disappointed, "What the f*#k are you doing?" It's their relationship, and these kinds of exchanges, that make this show brilliant. The well-written dialogue and acting has resulted in a slew of well-deserved Emmys: two for Danes (2012, 2013), one for Patinkin (2013) and one for Lewis (2012).
Saul at one point tells Carrie, "You are the smartest and dumbest f*#king person I've ever met." And we've witnessed that assessment play itself out over three seasons. Carrie is without a doubt a brilliant analyst dedicated to her work. But she wears the events of 9/11 as a personal statement about her own, private and very personal, failure to stop the attack.
Everything to Carrie is personal. In her mind, nobody works as hard or cares as much as she does, and so she finds herself fighting not only terrorists, but the bureaucracy of Washington and everyone on her team.
"When did you become such a pussy?" she asks Saul, to which he replies, "Hey, we're on the same team."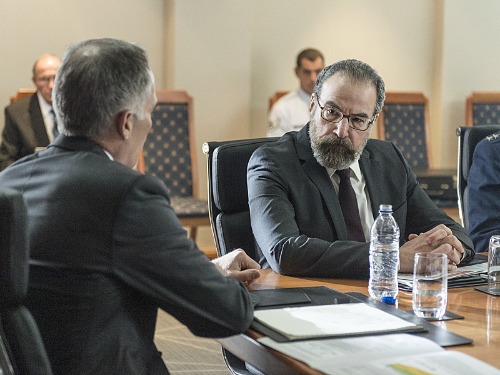 We learned in Season One why Carrie has this mix of brilliance and vitriolic martyrdom — she has bipolar disorder which she keeps from everyone, knowing she'd never step foot in Langley again if this were discovered by her superiors. This is a show about secrets, both big and small, conflicting loyalties and the tensions they bring. It's also about the ethics involved in post-postmodern intelligence gathering.
The first three seasons followed Carrie as she hunted down a suspected terrorist, the aforementioned Sergeant Brodie, who potentially may have been turned. Carrie risks everything to prove that she's right about Brodie. Their cat and mouse game eventually gives over to love and respect and some of the hottest chemistry in recent television.
Carrie and Brodie both have been damaged by their war against terrorism, but each responded differently: Brodie is full of empathy and understanding of the pain that's coming out of the Middle-East, and while Carrie understands it, she never waivers in trying to stop terrorist attacks from happening.
Brodie ends up making the ultimate sacrifice, and Carrie is left to pick up the pieces. She's pregnant at the end of Season 3 and in Season 4 we find that while she's had the baby, she's struggling with what it means to be a mom.
She wants to love her baby girl, who resembles Brodie with her shocking red hair, but is it within her? Season 4 will tackle that, her unfolding relationship with Peter Quinn, Saul's evolving role in counterespionage, and the wide implications of a continued drone program.
Make no mistake, "Homeland" treats its subject with measured consideration. The Middle East is not a backdrop for a tale of espionage – it's a meditation on what's happening over there and how we respond both politically and militarily.
After an uneven Season Three, there's good reason to be excited about Season Four. With Brodie gone, we lose five characters, including his annoying daughter, semi-mute son, his wife's husband in waiting, and the wife herself, the beautiful Morena Baccarin whom "Firefly" fans will always remember as the glorious Inara.  We can now focus on what makes this show great… the Middle-East, CIA, Washington D.C.and the mentors and protégées who are responding to terrorism.
DID YOU KNOW: Claire Danes says her best resource for playing a character with bipolar disorder came by watching "vlogs" of those with the condition.