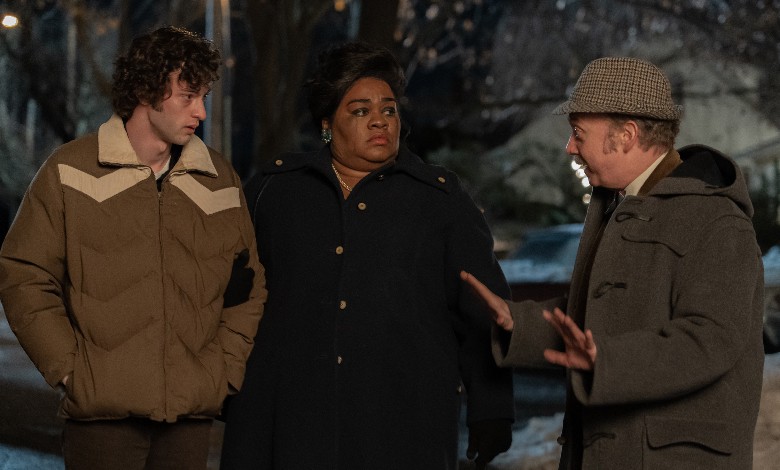 We missed Alexander Payne movies.
Remember "About Schmidt?" "Sideways?" "The Descendants?" "Nebraska?"
Smart. Provocative. Adult. Comical. Wise.
He swung and missed so hard his helmet came flying off with 2017's "Downsizing," but he's back in fine form with "The Holdovers." It's not his best work, and the story threatens to obsess over class envy in ways that evoke "Downsizing's" lectures.
It's still a sturdy tale brimming with love, loss and redemption.
Yes, please.
THE HOLDOVERS - Official Trailer [HD] - In Select Theaters October 27, Everywhere November 10
Paul Giamatti plays Paul Hunham, a teacher at a prestigious boarding school circa 1970. He's a by-the-book type who instills fear and loathing in his pupils, and he knows it.
Paul gets the unenviable task of watching after the "holdovers," the students who have nowhere to go over the Christmas holiday stretch. That includes Angus Tully (Dominic Sessa), a boy with a knack for getting himself kicked out of boarding schools.
The two make a strained couple, at best, but the presence of school cook Mary Lamb (Da'Vine Joy Randolph) offers some relief. She's a kindly soul mourning the loss of a son who gave his life in the Vietnam War.
The unlikely trio stares down a somber holiday without loved ones to nurse their emotional wounds.
THE HOLDOVERS - "No Wonder You're Afraid of Women" Official Clip - In Select Theaters This Friday
Paul's entire life is wrapped up in the New England school, and even the presence of a comely colleague (Carrie Preston) can't shake that bond.
Angus seethes over his mother spending Christmas with her new beau, not him.
Mary's wounds will never heal, but she's proud enough to keep her values even in the worst of times.
"The Holdovers" is quietly hilarious, with tender moments blossoming into slow and steady smiles. David Hemingson's script is smart and unwilling to devolve into cheap life lessons or impractical laughs.
The story uncorks some "eat the rich" broadsides, including how young men avoided the draft through family ties. The moments aren't as elegant as the rest of the material, but Payne and Hemingson don't dwell on the observations, either.
FAST FACT: Paul Giamatti pursued animation briefly before the acting bug took over, according to an interview with NJ.com. "After graduation, I moved to Seattle thinking I would — oh, I don't know what in hell I was thinking," he says. "Get into animation, I guess — although, wow, just put a bullet in your head, there's a really hard way to make a living."
Giamatti is sensational, of course. Paul may feel like someone we've seen before, but the "Sideways" alum grants him a humanity that's appealing yet sour. His character emits a steady odor that, combined with his crusty mien, keeps the world at arm's length.
Stand back. Far back. It's one more element that isolates him from the world, a place where he's told himself he's content to stay.
Sessa, making his big-screen debut, avoids the troublesome lad cliches inherent in the part. Angus is both self-loathing and likable, and by the third act you're fully invested in his plight.
Randolph, the third member of the awkward trio, brings a quiet dignity to the performance that's heartbreaking at select moments.
Films like "The Holdovers" often end without a resolution, their narratives unwilling to provide a pat finale. Here, we've treated to a conflict that not only puts a bow on the story but offers a semblance of hope and renewal.
Welcome back, Alexander Payne.
HiT or Miss: "The Holdovers" delivers an adult drama brimming with wisdom, smiles and the occasional sour note. Just like life.