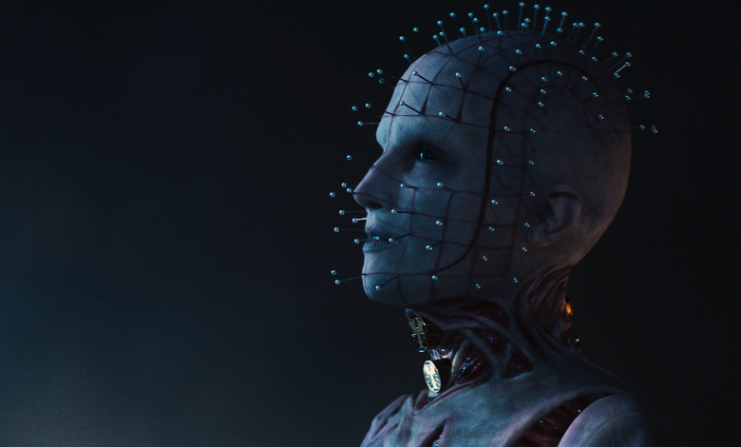 Some horror classics don't exactly earn their reputations.
John Carpenter's "Halloween" redefined horror for the slasher-movie age, while copycat "Friday the 13th" lacked a fraction of that director's vision.
Similarly, 1987's "Hellraiser" earned a cult following despite its modest rewards and the pedestrian eight films (?) that followed.
Hellraiser (1987) Trailer #1 | Movieclips Classic Trailers
Hulu's "Hellraiser" reboot ups the ante on the original.
Better effects
Respectable acting
Body horror on steroids
It's still a film lacking a powerful third act, and the story behind the freak show misses a ripe angle.
Hellraiser | Official Trailer | Hulu
Odessa A'zion stars as Riley, a troubled young woman struggling to maintain her sobriety. She unwisely teams with her beau (Drew Starkey) to break into a storage facility owned by a mysterious art collector ('ER" alum Goran Visnjic) who went missing years earlier.
Their robbery yields nothing save a mysterious metal box, a Rubik's Cube-like gadget with an impressive golden tint. The device activates, opening up a portal to another realm where horrifying creatures dubbed Cenobites dwell.
FAST FACT: The original "Hellraiser" earned a tepid $14 million during its 1987 theatrical release.
Their unofficialy leader, affectionately known as "Pinhead" (Jamie Clayton) leads the blood-stained monster squad. Who are they? What powers do they possess? Will they threaten Riley and her loose-knit group of generic friends?
"Hellraiser" starts strong by letting us get to know the potential victims. A'zion's Riley is a mess, both physically and emotionally. Her heart is pure but she keeps making troubling choices.
Her boyfriend and brother Matt (Brandon Flynn) try to help, but the box's complications make that impossible.
View this post on Instagram
The film's strongest throughline is Riley's addiction, a subplot granted more gravitas than many may expect. Still, there's a redundant quality to the shocks early on, and the film's horror threshold stalls for a good half hour.
Slowly, we learn more about the Cenobite threat, and franchise fans will appreciate the fidelity to the original beasts and practical effects.
Doug Bradley famously played Pinhead in eight "Hellraiser" films, including the original. Now, Pinhead is female, but the change proves insignificant.
The character matters primarily as an achievement in makeup design, much like Boba Fett's killer armor wowed "Star Wars" fans for decades despite his absurdly short screen time over two films.
In short, Pinhead is no Freddy, Jason or Michael Myers. And Clayton is no Bradley. The makeup still looks slick, though.
Stars of the new #Hellraiser film talk tackling the legacy of the franchise for the #Hulu outing. https://t.co/B3l6Yf5sqI pic.twitter.com/1IYwxxnvrI

— ComicBook.com (@ComicBook) October 5, 2022
The script, credited to Ben Collins, Luke Piotrowski and David S. Goyer, flirts with a critique of unlimited wealth and its social implications, but it's hardly heavy handed.
The Cenobites offer a otherworldy mix of both pleasure and pain, but the film focuses almost exclusively on the latter. That's fine for a horror film, but it robs the reboot of a unique element.
The reboot, like the original, flows from Clive Barker's novella "The Hellbound Heart." Barker's work inspired a modest flow of adaptations over the years, with very modest results. The "Nightbreed" director's cut remains the most watchable Barker film, though "The Midnight Meat Train" deserves a look.
The new "Hellraiser?" It's fine, nothing more, and that's a pain to absorb.
HiT or Miss: The "Hellraiser" franchise hasn't aged well, but the respectable reboot may give it a new life.