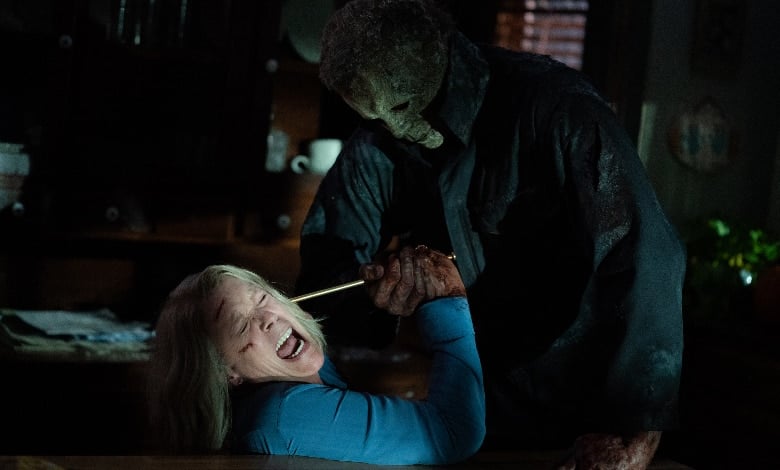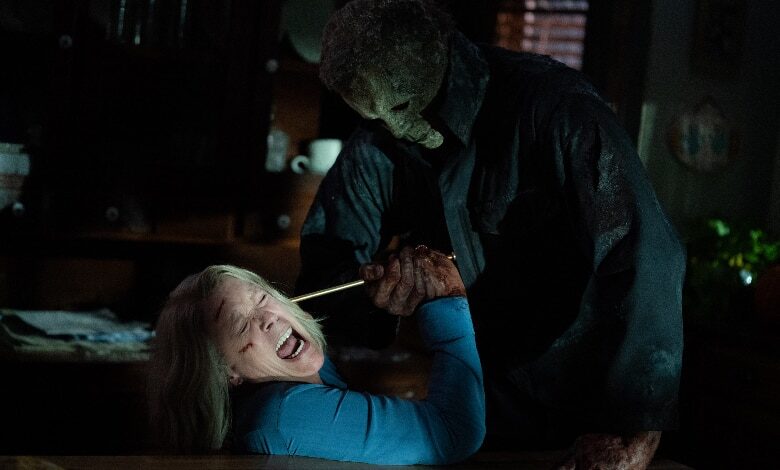 Director David Gordon Green lost interest in Michael Myers before we did.
Green, who successfully rebooted the franchise in 2018, caps his trilogy with an ambitious, but ill-advised chapter. Michael Myers is back, natch, as is Laurie Strode. Yet the final chapter squanders most of its time on a secondary set of characters who, suffice to stay, lack their iconic history.
Halloween Ends - The Final Trailer
Jamie Lee Curtis' Laurie Strode has picked up the pieces since Michael Myers butchered half her hometown, including her daughter (Judy Greer), four years ago. She's happier now, eager to boost her granddaughter's social life and flirt with a local cop (Will Patton).
Her metamorphosis beggars belief given everything we've seen in the last two films. That's on par for a sequel disinterested in continuity or context.
Laurie introduces a troubled young man named Corey (Rohan Campbell) to Laurie's granddaughter Allyson (Andi Matichak), fully aware of his past. He accidentally killed a pre-teen years ago, and the morally broken town of Haddonfield, Ill. never forgave him.
It's a powerful subtext the film embraces but struggles to follow up on.
Corey connects with Allyson, two troubled souls eager for healing. (Remember, Allyson lost both her parents in "Halloween Kills.") Except Corey can't process his horrific past, an issue that catches Laurie's attention.
RELATED: WHAT YOU DIDN'T KNOW ABOUT THE 'HALLOWEEN' FRANCHISE
To say more would ruin key elements in the film. Just know Michael Myers' name hasn't been mentioned yet, and for good reason. While "Halloween Kills" featured the monster in what felt like every other scene, Gordon keeps The Shape far, far away.
Yes, that's a problem.
We eventually get the standard-issue killings, most of which are of the ho-hum variety. And, since this is a 21st century horror film, there's neither sex nor nudity.
View this post on Instagram
The screenplay staggers from insightful asides to to dopey observations. It's hard to square Laurie's experiences over the franchise with thoughts of "forgiving" Michael Myers.
Yeah, that train left the station back in 1978, no?
Gordon and co. deserve credit for shaking up the franchise formula for the finale. We don't even see kids wandering the bucolic Haddonfield streets, innocently dressed for the Halloween festivities.
His Plan B, sadly, lacks the compulsive glee of the franchise's better entries. More frustrating? The approach defangs one of film's most notorious monsters. There's far less to fear with this Michael Myers than ever before.
This IMAX #ExclusiveArt has us peeking through our fingers . #HalloweenEnds in 10 days. pic.twitter.com/OEmExzUma4

— IMAX (@IMAX) October 4, 2022
"Halloween Ends" runs wild with cheap scares, but there's little frightening about anything else. Unless you consider the project's squandered potential.
Now, that's terrifying.
And, when Laurie and the boogeyman square off (no spoilers here … it's in the trailer) it's hardly the battle of the titans we crave. It's like two boozy buds throwing haymakers at each other.
It's a letdown, just like the rest of "Halloween Ends"
HiT or Miss: "Halloween Ends" delivers what franchise devotees want, a finale to the never-ending saga. Anyone expecting a satisfying resolution will come up empty.