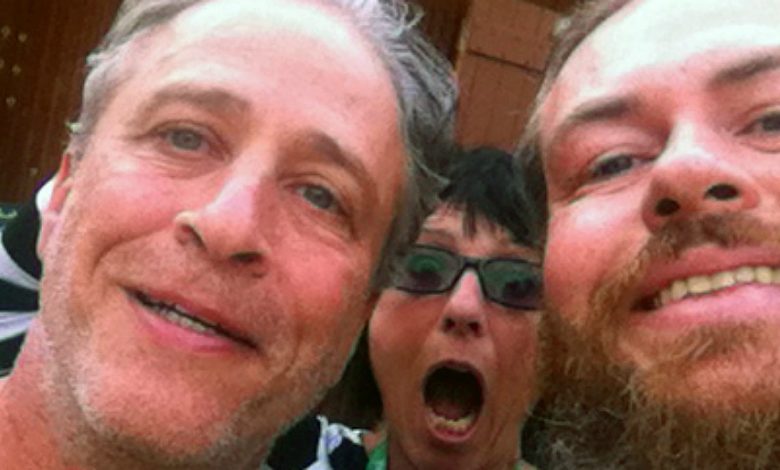 The Saturday morning sun radiated down into the valley, illuminating every tree and rooftop with a glow that could only strengthen our conviction that it was going to be an unforgettable day.
Today is the "big day" for the Telluride Film Festival, where all the actors, actresses and directors would come out of hiding for the anticipated film premieres and mingle amongst the townspeople. With no pre-conceived agenda and without passes, we plunge willingly into whichever current we are carried.
When going to a film festival without a pass, one must enter the experience with a certain mindset. If you're expecting to catch all of the most anticipated films, you will be left disappointed. That is unless you are willing to shell out a ton of cash and wait in line for hours.
Even then, there is still no guarantee you'll get in.
The main seats are reserved for the pass holders and press. Any remaining seats will be left for those lucky, privileged few. So if you go into the experience without expectations, you can avoid the heartache of being let down when the hottest films are sold out.
That being said, there are a plethora of free panels and activities that one will gain a ton of wisdom from and find unforgettable. Our main purpose at the festival was to promote our film, "Walk-ins Welcome," and experience as much as we could without breaking the bank.
We arrived at the Abel Gance Open Air Cinema early to hold a good sitting spot for our first free seminar on the film "Wild." The panel featured an intimate conversation with Reese Witherspoon, Laura Dern, the director, Jean-Marc Valleé, and Cheryl Strayed, the writer whom the movie was about.
While waiting for the discussion to start, my wife leaned over to me and said, "Isn't that Ethan Hawke over there?" I glanced over and sure enough it was. I saw that he was just standing there, not being engaged by anyone. I decided to talk to him and see if he'd mind taking a photo with me. Being extremely nice and down to earth, he was easy to talk to and had no problem letting me get my first celebrity photo of the day.
I gave him a copy of our movie and he made me smile by saying that he liked the tagline – "Aliens Are People Too."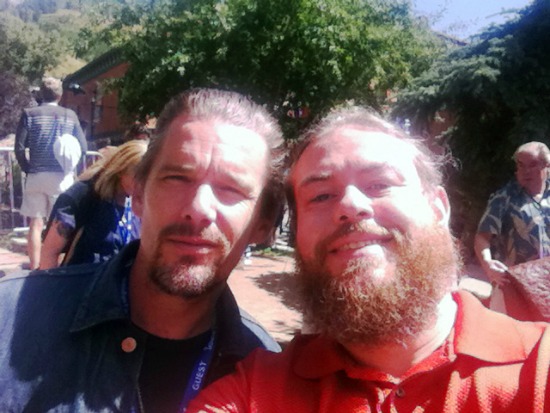 The conversation for "Wild" started promptly at 10 a.m., and it was a heartfelt journey into the writer, director and actresses' experiences making the film. Even though I hadn't seen "Wild" yet, I felt fully immersed in their journey, taking in all of their emotional hardships and triumphs.
After the discussion I tried to get a photo with Laura Dern (loved her in "Wild at Heart"), but she was already bombarded with flash bulbs.
We proceeded to get lunch and then prepared for a new panel. That event was a complete powerhouse of directors with the iconic Francis Ford Coppola, Mike Leigh, Ethan Hawke, Wim Wenders, Werner Herzog, editor Walter Murch, Alejandro González Iñárritu and Volker Schlöndorff. They talked about making films in the '70s and how that compares to the film making process today.
Almost all agreed that because of the technological advances in video, film making is easier now. However, since anyone can make a movie today, distribution is the harder element to tackle. This is the point that Coppola brought up and he also said that when it comes to making films today it is best to "be your own angel" in terms of financing.
In his case, that means he has funded his past few films with the money from his vineyards, avoiding the manipulative movie studios and allowing him full creative control.
Festival Crashing 101: If you go into the experience without any expectations, you can avoid the heartache of being let down when the hottest films are sold out.
To hear these stories from such a talented group was truly inspiring and reaffirmed my beliefs that all of my film making dreams are attainable.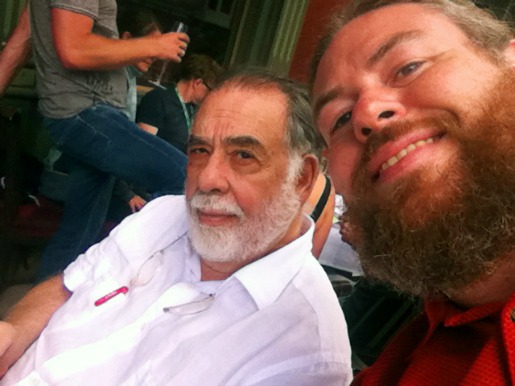 After this amazing discussion, we proceeded to peruse the streets. Almost immediately I noticed Coppola sitting at a table along the main strip and took a photo with him. I gave him a copy of my film and when we came back about an hour later he was still sitting there with my film on the table. So, of course, I had to take a photo of that as well!
From there on I hit a paparazzi hot streak and got my photo taken with Witherspoon, Herzog, Leigh, Laura Linney, González Iñárritu and famed film critic, Leonard Maltin.
I really wanted to see the new Iñárritu film, "Birdman," that evening. I had heard through the grapevine that it was the most anticipated film of the evening. So in efforts to avoid the disappointment of not getting in, we opted to go to the the Hillary Swank tribute followed by Tommy Lee Jones's, "The Homesman."
The Q&A with Swank was lovely. She touched on her early career in comedy and shared stories of her working with the incredible Clint Eastwood. "The Homesman" was a gritty western with memorable performances from Jones and Swank. After the film, we settled into a nice Italian bistro to toast to the successful day.
The next morning we headed out to our final free discussion with Jon Stewart, Maziar Bahari and Gael García Bernal for the politically charged "Rosewater." On the gondola ride into town, someone in my cart mentioned that they thought they saw "The Daily Show" host on the gondola cart behind us. I waited for the next cart when we got off and sure enough it was him.
I snapped a quick photo with him and headed to the seminar. The discussion was very informative and I just found it so intriguing that this funny man had chosen to make his directorial debut with such a serious film. Definitely on my "need to watch" list.
After the panel, we said our goodbyes to Telluride and contently made our trip back down the mountain.
All in all, I would recommend our guerrilla-style approach to anyone on a tight budget who wants to experience the wonder of the festival. I came away with so much knowledge and inspiration, further fueling my desire to entertain movie audiences.
One doesn't need a pass to experience the wonder that is The Telluride Film Festival, just an open mind and some perseverance. The memories from this trip will last a lifetime, and I will definitely be there next year. I had better get to making my next film in hopes of having an entry next year!
DID YOU KNOW: Telluride's permanent population is far less than during its past mining peak. The town's current population count is about 2,000 residents, less than half of the numbers during its mining heyday.
Jonathan Stien is a graphic designer, photographer and cinematographer who has been working professionally in Colorado for the past 15 years. While graphic design has been a healthy career, Jonathan has chosen to follow his dreams of being a full-time film maker. In 2013, his directorial debut, "Walk-ins Welcome," premiered at the Intendence Film Festival and won Best Feature and the Audience Favorite Award. "Walk-ins Welcome" is now available on Amazon, Vimeo-on-Demand and can be purchased through the "Walk-ins Welcome" website.
Jonathan is currently in the writing and pre-production phase of his next film, a relentless supernatural horror/action film. A portfolio of his graphic and video work can be seen at www.bizzaartwerks.com