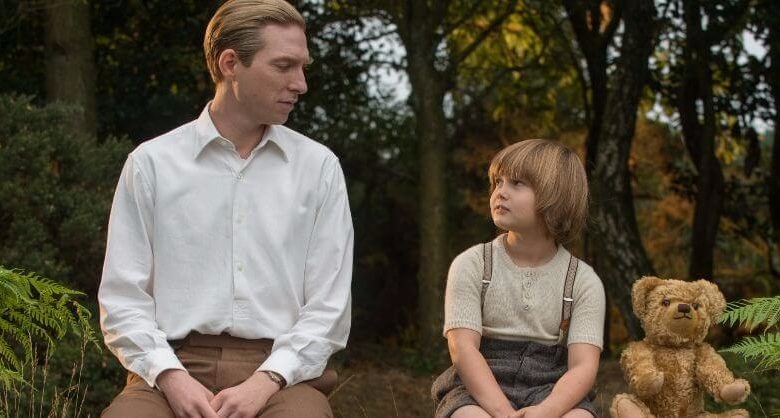 Just try finding someone who hasn't "met" Winnie the Pooh at some point in their lives.
Feature films. TV cartoons. Stuffed Animals. Bed sheets.
And books, of course, including the 1926 classic "Winnie-the-Pooh
" that introduced the beloved bear.
Today, ol' Winnie is everywhere, but where did it all begin? The story behind author A.A. Milne's famous creation isn't the stuff of cozy memories. It's darker than that, touching on absentee parents, cruel capitalism and a lad who recoiled at his role in Big Pooh.
Is there really an audience for this?
Goodbye Christopher Robin | Official HD Trailer | 2017
Domhnall Gleeson stars as A.A. Milne, a celebrated playwright suffering from PTSD. He served honorably in World War I, but he can't forget the horrors of combat. The experience transformed him into a pacifist with a devastating case of writer's block. That's too much for his socialite wife Daphne (Margot Robbie), who leaves her husband and their adorable son, nicknamed Billy Moon.
But you know his real name, right?
Father and son are forced to bond, convincing papa to drop his anti-war plans to focus on a children's book instead.
Awwww.
The tales of Winnie-the-Pooh won hearts around the world. #GoodbyeChristopherRobin // Get tickets: https://t.co/UZ9rzZb45V pic.twitter.com/G3Adl10TlH

— GoodbyeCRobin (@GoodbyeCRobin) October 11, 2017
Only that's not the story being told here. Mllne is cold and calculating, a father who willingly uses his son to peddle his books. Mama Daphne is so emotionally checked out she might as well air mail her hugs to her son.
So does the film serve as a cautionary tale of instant fame? Or are we meant to coo over Pooh nuggets while digesting the cruel family dynamics?
"Goodbye Christopher Robin" can't decide. So it does both – poorly.
FAST FACT: A.A. Milne only wrote two Winnie-the-Pooh books in his lifetime. Most of his work involved plays, novels and non-fiction.
Those father-and-son moments are so generic they don't leave an emotional mark. Daphne's cruelty does, though. Kelly Macdonald supplies some warmth as the family's nanny. Her bond with Billy Moon is palpable, and the film sags when she's off screen.
The movie's framing device suggests an emotional third act. It arrives, technically, but you won't shed a tear. It might actually make you angry.
Casting Gleeson, an actor with a reservoir of both intellect and mystery, makes sense. But what can he, or any star, do with this story?
"Goodbye Christopher Robin" is rated PG, which makes it technically appropriate for all ages. Young and old will smile to see how several Pooh regulars first came to life. Savoring those moments means enduring a level of dysfunction that might taint the way you look at Pooh Bear from now on.
HiT or Miss: "Goodbye Christopher Robin" is the feel-bad movie of the season!