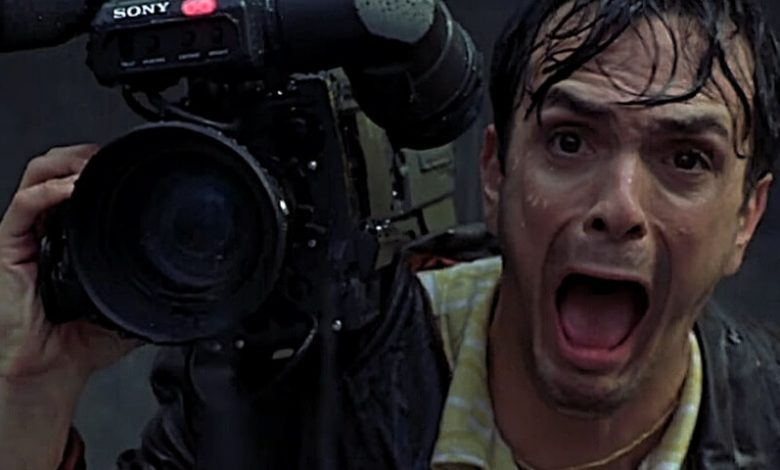 With a new "Godzilla" in theaters we delve into a past iteration, the misbegotten 1998 version directed by Roland Emmerich.
Sony went through a number of prospective directors before Rollie-E – fresh off of his "Independence Day" triumph – felt he had the computer savvy to come in under the studio's budget.
Sony went full on with the "Godzilla" hype, and even tried building excitement by keeping the appearance of the monster a secret. The film became a disaster, sporting many Emmerich patented elements: laughable story, risible dialogue, hyper-dramatic film techniques and destruction of celebrated American landmarks.
In the end he departed so far from the elements of film lore that devotees refer to film as GINO — "Godzilla In Name Only"
With all that in mind let's dig through the rubble and learn why so many felt off to see this lizard.
0:005:24 VISUAL ADRENAL INFUSION
We're on a large fishing trawler in the Pacific. In rough seas we get shots of every single crewman standing in shock. Next, immense rubber claws burst through the bulkhead. The last rainy image we see is a giant tail rising up and slapping the bridge, sending the officers flying.
Stakes have been raised!
0:06:01 SCEPTIC INTRODUCTION
Matthew Broderick is driving in the rain with his headphones on, energetically belting out "Singing In The Rain," like exactly nobody in real life. He drives past a "Chernobyl" sign. The subtle Emmerich narrative touch is in play.
0:06:41 CRANIAL ATROPHY
While listening to the 25-minute version of the Gene Kelly classic, Broderick steps into the downpour to set metal probes in the ground. He connects cables to a large battery, the absolute wisest thing to do with water pouring off of you. He's forcing earthworms to the surface to study effects of the nuclear disaster — and allowing other characters to derisively call him, "The Worm Guy."
0:07:05 PHYSICS DISORDER
Who knew 1998-era Walkman headphones had noise-cancellation technology? A twin-prop helicopter nearly lands on top of Broderick before he notices.
0:07:45 WEAKENED IMPULSE
The helicopter with Russian markings, in the Ukraine, is filled with American soldiers. A member of the State Department approaches to tell Broderick he has been reassigned. We learn his name in this exchange:
STATE DEPT. WONK: "Dr. Niko Tatotopolous?"
BRODERICK: "It's Tatopolous"
Suuuuure it is..
0:08:31 DEPLETED CHARACTER CONCENTRATION
Subtitles explain a shady group at a hospital in Tahiti are evil as they interrogate a patient. (They being French is only a part of this.) They are led by actor Jean Reno. His four accomplices are named, I kid you not: Jean-Claude, Jean-Philippe, Jean-Luc, and Jean-Pierre. I mean seriously, what the hell Rollie?
0:09:14 IATROGENIC DIRECTION
We learn of "Gojira" from this man in farcical fashion. The Frenchman interrogates the Japanese sailor in English. The sailor lays catatonic, until Reno slowly waves a lit cigarette lighter in front of him, and he then answers.
(Huh?)
0:11:11 VISUAL ADRENAL INFUSION
Niko Broderick is flown to Panama because he works for the Nuclear Regulatory Commission — I guess? Off the plane an Army Colonel carries on a long conversation, but sees no need to explain why he was brought out there. He climbs a ladder out of a crater, leaving Niko behind to figure out he is standing in a footprint.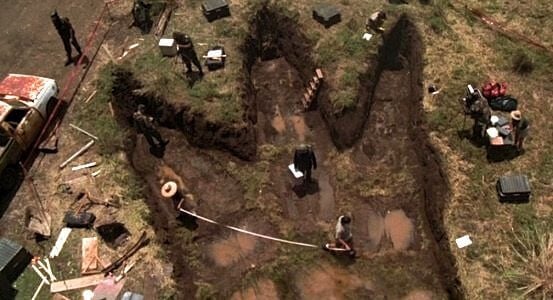 0:13:12 EXPLORATORY STORY INCISION
We cut to rainy New York City where we meet Audrey (Maria Pitillo). She works as a research assistant to news man Charles Caiman (Harry Shearer of "Simpsons" fame). We'll call Audrey "plucky," as she is energetic, ambitious and wears extremely tight form-fitting blouses in the office.
0:14:51 COMEDIC ARREST
Back to Niko Broderick, now riding in a Jeep in Jamaica. He is being hit on by a redhead paleontologist, and this makes for the third time in seven minutes we hear the exchange about pronouncing his name. The redhead is coming on strong, but cut her some slack. She has been working in the field with nebbish technicians, or portly and grouchy military authorities. A whiny worm scientist in a beret is probably looking like an extra from "Magic Mike" by now.
0:15:51 LOCALE ANESTHESIA
Niko and the team drive up to that fishing trawler in the opening, having washed up on shore. Director Emmerich botches things … again.
The damage is so extensive it would have sunk before the movie trailer finished playing. The original ship only had a single superstructure, not two. That ship was attacked off of the coast of Tahiti, but washes up days later in the Caribbean.
0:17:13 IRREGULAR PLOTBEAT
The French team also arrived, skulking around in a very not suspicious manner. They claim to be insurance adjusters, BUT WE KNOW OTHERWISE!
0:20:37 SCRIPT GRAFT
Three shrimp boats are simultaneously dragged below the surface. Within moments news reaches the military team in a transport plane, because the military taps all fishing transmissions — and presumably the fishermen were instantly rescued, AND reported things to draw attention of the brass. (Just go with that, do not speculate.)
0:21:41 ARTIFICIAL NARRATIVE STIMULANT
Niko Broderick is on the plane because a worm expert is needed for all crucial missions. He found trace amounts of radiation in a tissue sample and concludes nuclear tests in Polynesia caused mutations of local reptiles. Well that helps to accept a towering lizard the size of the Empire State Building!
0:23:12 CLICHE MALIGNANCY
In a diner Audrey sits with her anonymous friend and husband, "Animal" (Hank Azaria), a cameraman at the station. She spots a TV newsfeed, and sees Nico Broderick in the footage, because of course! They had a romantic past, and becomes the second female to insist Broderick in a goofball hat is "handsome."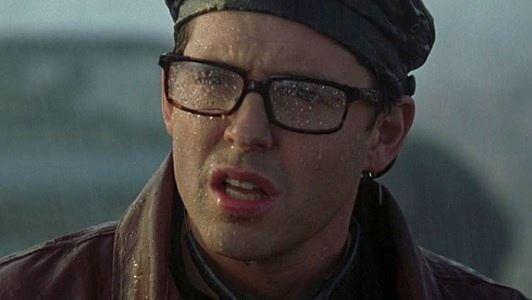 0:25:08 IATROGENIC DIRECTION]
We see several people facing Godzilla, and they stand in awe and wonderment at their impending doom. An old man walks out on a pier to fish. Soon he sees a massive wall of water approaching rapidly, and he just gawks.
Godzilla (1998) - Godzilla Rises Scene (1/10) | Movieclips
This allows for a trademark, ridiculous Emmerich chase scene. (Recall "The Day After Tomorrow" and Jake Gyllenhaal running away from cold air.) Here the codger EVENTUALLY starts running, as the dock systematically explodes in sections at a rate far slower than the approaching Godzilla.
0:26:04 VISUAL ADRENAL INFUSION
The creature has reached New York and begins attacking vehicles in a seafood warehouse, then steps into traffic. We are shocked as no fewer than six boats fall to the street from the sky.
0:26:40 DEPLETED CHARACTER CONCENTRATION
Want to know how petulant Emmerich can get? We now get a corpulent politician, and his balding assistant on screen. This is "Mayor Ebert" and his aide, Gene. Yes, because Rollie got pissy over bad reviews on prior films, he caricatures Siskel & Ebert.
0:28:04 STUNT CAST
At the news channel the receptionist is played by Nancy Cartwright. This makes for the third member of "The Simpsons" working at the station.
0:30:27 PHYSICS DISORDER
Animal is in the road trying to record the monster, then he, too, goes motionless as we get the money shot from the trailers of him seemingly getting stepped on, but surviving in the gap between his toes.
0:37:16 DEPLETED CHARACTER CONCENTRATION
The Mayor gives an impromptu speech and Jean Reno greets him … while planting a bug. (Yes, they made it to New York as well). In a UPS truck we see this mysterious French team has surveillance. Jean Reno's main task seems to serve as Emmerich's avatar and condemn any aspect of America. Here, he bitches about our coffee.
0:39:45 PHYSICS DISORDER
In a subway tunnel they discover Godzilla has gone underground. The Colonel angrily tells a soldier to seal all exits with concrete, or bricks. He gives this order, after witnessing the monster walking through skyscrapers…
0:42:58 BLUNT FORCE DIALOGUE
After joining the military in the tunnel Niko Broderick says they need to lure the animal. Next, in the middle of the worst crisis, the military was able to instantly get 12 dump trucks filled with fish to pile up on 5th Avenue as bait. Niko says dully, "That's a lot of fish!" stunned by his own plan.
0:46:22 IRREGULAR PLOTBEAT
Lured by the fish Godzilla crawls out of the street, its body resembling a steroidal athlete. Niko Broderick becomes the fifteenth-dozenth person to not run away from danger, and the creature for no reason leans in close to get a look at him, then walks away. I mean, what the hell anymore?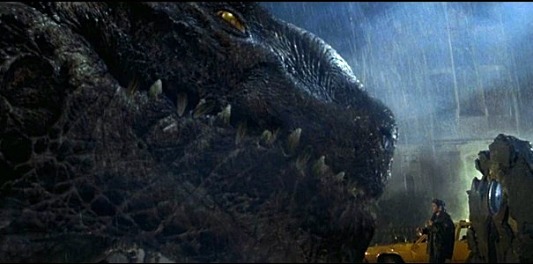 0:48:17 BLUNT FORCE DIALOGUE
With Godzilla gnawing on fish a soldier gives a nod to "Jaws" saying, "We're going to need bigger guns!" Why do horrid movies resort to this – referencing better films? It only reminds you of how bad this one is!
0:48:38 IATROGENIC DIRECTION
Time for trademark Emmerich landmark destruction. The army opens fire on the snacking Godzilla, but instead he destroy the famed Flatiron Building (John Wick's "Continental"). This is because Godzilla evades the fusillade – by ducking.
0:50:32 IATROGENIC DIRECTION (Cont.)
The beast flees, and Apache helicopters arrive to confront. Possibly piloted by storm troopers, they fire rockets and manage to miss the skyscraper-sized creature. They do sheer off the top of the Chrysler Building, however.
0:51:42 EDITING ARRHYTHMIA
The Apaches now chase while firing high-caliber guns. They continually miss their target, but strafe numerous buildings. The special effects look decent, except this means heavy debris is raining down into their flight paths and should be damaging every helicopter.
0:53:02 CRANIAL ATROPHY
The choppers hover to shoot, but Godzilla sneaks up from behind. He chases the lone surviving chopper through downtown in GRIPPING fashion – if you don't question why the helicopter does not simply fly higher than the creature…
0:55:35 CAUTERIZED PLOT HOLE
Second act motivations get shoveled in here. Audrey (shown as important since she has the only red umbrella in New York) manages to bump into Niko Broderick. He's at a drugstore that remains open during a city evacuation to buy every pregnancy test they stock. This should kick-start the plot again!
0:57:02 SCRIPT GRAFT
During widespread calamity Niko brings Audrey back to his tent-lab for a cup of tea. With rampant city destruction and the mass loss of life we are getting a love story spot-welded into the film.
0:58:26 BIOLOGICAL CONSTERNATION
Niko Broderick collected a blood sample and determined the newly created organism is a male who is asexually pregnant. This is based on pregnancy tests that use human hormones in urine. To all of this Niko says, "It makes perfect sense."
1:00:29 WEAKENED IMPULSE
When Niko Broderick brings his finding to the lab Audrey snoops around and sees photos of them from eight years ago. She is so moved by Niko's lingering affection that she steals a video tape marked TOP SECRET and runs off.
1:07:35 IRREGULAR PLOTBEAT
After the stolen tape makes the news Niko Broderick is fired from the task force. Audrey is desperate to speak to him, but unable to get him on the phone she manages to accidentally see him, in New York City, just across the street.
1:11:26 IATROGENIC DIRECTION
Leaving the liar Audrey behind, Niko Broderick calls a cab. For no discernible reason Jean Reno is driving. And for no discernible reason Animal steals a van to chase them. Reno explains he is French Secret Service. They go to a warehouse where all the Jeans have a massive amount of weapons. Asked how they got them he has a discernible reason: "This is America – you can buy ANYTHING!"
1:15:41 BLUNT FORCE DIALOGUE
More trademark Emmerich xenophobia. The French team is disguised as military to look for the nest, and Jean Reno hands out Juicy Fruit to everyone.
DR. NIKO BRODERICK: "What's with all the chewing gum?"
JEAN RENO: "It makes us look more American!"
1:20:27 CAUTERIZED PLOT CAVITY
Audrey has to be a psychic. She and Animal decide to sneak into the subway tunnels through a vent. Niko Broderick and the Jean-Frenches fool a checkpoint guard. Obviously in all of the subway system they arrive at the same location.
1:26 23 IRREGULAR PLOTBEAT
Godzilla escaped into the river, and we learn nuclear submarines navigate the Hudson River with ease. One gets destroyed because this species just created has a functional knowledge of torpedoes, guiding them to impact a sub rather than him.
1:28:00 CHRONICLE SEIZURE\
Two torpedoes manage to kill Godzilla. Any relief this fiasco is finished however is dashed — THERE IS OVER HALF AN HOUR OF SCREEN TIME REMAINING!.
1:28:39 CRANIAL ATROPHY
In the tunnels Jean is with Niko Broderick and they look up at a gaping hole. He asks, "What's up there?" This, while standing directly in front of two lit up signs announcing it is Madison Square Garden.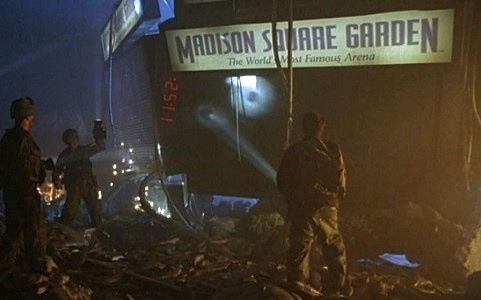 1:34:51 RATIONED FILMCARE
Inside The Garden they locate two hundred eggs. Animal and Audrey make it inside as well, and the eggs begin hatching. All the Jean-Frenches perish, except for Jean Reno. Because the studio budget limited the transfer stock for the final film we now get ponderous chase scenes inside a hockey arena with cartoonish baby dinosaurs.
1:49:42 COMMERCIAL TOXICITY
If ever corporations needed a cautionary tale about spending a small fortune for product placement here it is. While eluding the swarm of hatchlings our players pass well-placed placards for failed commercial properties. Blockbuster, Pepsi's Josta soda, and Konica Film all failed to latch on with this title.

1:50:18 COMEDIC ARREST
Our heroes elude the babies at one point with a broken gumball machine making them all fall over. Yes, seriously…
1:51:44 CRANIAL ATROPHY
They need to exit the arena before the military blows it up, but the concourse is filled with the infants. They make it out by Jean Reno shooting down a series of chandeliers which make the dinos scatter. Actually shooting the beasts was apparently not an option.
Godzilla (1998) - Blowing Up Madison Square Garden Scene (8/10) | Movieclips
1:54:25 CAUTERIZED PLOT CAVITY
Emmerich gets his money shot blowing up Madison Square Garden, and the four barely escape. Then for no reason Godzilla, who we saw die, bursts up through the rubble. Then, for no reason. all four stand in awe just 30 feet away. Then, for no reason, we have an extended chase scene of Godzilla going after the cab they stole.
1:58:42 SCRIPT GRAFT
Clearly stuck for an ending Emmerich goes full Deux Ex Machina. While at full speed Niko Broderick removed the identification plate from the cab, tosses it out the window at the military, who knew to grab it in all the rubble, and they go inside to the taxi headquarters – which they just managed to be near – and they find a book listing all the cab radio frequencies. They managed to call Niko Broderick to find out where the monster is at, because SURE THEY DID!
2:03:01 COLLAPSED CLIMAX
After having their taxi in Godzilla's mouth — AND SURVIVING — they drive across the Brooklyn Bridge where the monster, who has previously climbed through skyscrapers and subway tunnels, suddenly gets stuck. This time air-to-surface missiles appear to have taken him down…but seriously, in this mess of a film who the hell knows?!
2:06:15 GENETIC SEQUEL MUTATION
After all of the cheering Niko Broderick ends up in front of the TV news for about the sixth dozenth time, but Animal discovers Jean Reno stole his video tape and disappeared. The purpose of the French Secret Service in all of this is…still unknown. Then we cut to Madison Square Garden where we see a lone egg, and a newborn hatches! How it survived the destruction is not important!
CELLULOID TOE TAG
To close this out the credits roll and we hear Puff Daddy and Jimmy Page performing a rap version of Led Zeppelin's "Kashmir." A perfectly horrid remake for a horrid remake of a film.
POST MORTEM
These days Emmerich's "Godzilla" is regarded as a laughable entry in the monster canon. Watching it anew you are struck by the levels of awfulness to this effort. It is that cherished product of Hollywood – the expensive blockbuster misfire.The planned-for franchise died, like so many New York citizens, because it is a true Disaster Film, but not in the way they intended.