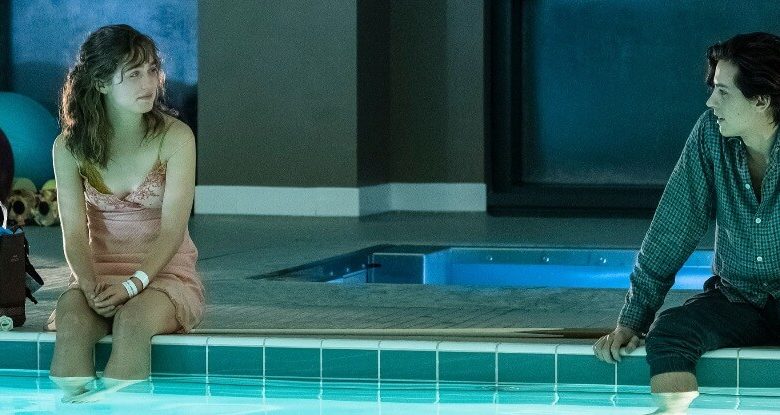 You just know the end of "Five Feet Apart" would wrestle the tears out of your eyes, by force if necessary.
The movie's premise – two dying teens make an improbable love connection – guarantees it. We've seen similar stories before, and we know what Hollywood has in mind.
Back up the Kleenex truck.
What you don't see coming is how tender and true the story plays out up until that moment. It's why the rush of tearjerker theatrics crushes a gem of a tale.
FIVE FEET APART - Trailer #2 - HD (Haley Lu Richardson, Cole Sprouse)
Haley Lu Richardson of "Support the Girls" fame plays Stella, a teen born with cystic fibrosis. She's in the hospital, again, and she isn't leaving anytime soon. So the Judd Nelson type in the building can't help but intrigue her.
He's Will ("Riverdale's" Cole Sprouse), and he's a rebel without a pause. Stella changes all of that. They bond over their tragic diagnoses, the monotony of daily meds and a zest for life outside the hospital grounds.
Of course there's another cystic fibrosis patient to keep them company. Poe (Moises Arias) offers both comic relief and wise counsel. The former is parceled out perfectly, one of many crisp calls from first-time director Justin Baldoni.
FAST FACT: More than 30,000 children and adults in the U.S. suffer from cystic fibrosis, according to the Cystic Fibrosis Foundation.
"Five Feet Apart" similarly shares what cystic fibrosis patients endure without making us recoil. It's a tapestry of tasks to keep their lungs as clear as possible. Stella shares some of it via her charming YouTube videos. Richardson, a rising star, sells those snippets in a way that anchors the film.
She's ebullient, but believably so, a teen unwilling to let her condition overwhelm her. You just want to hug her.
Of course, none of this matters if Richardson and Sprouse lack chemistry. They're wonderful together, each giving the other exactly what they need … except touch, of course. These patients must be at least six feet apart at all times lest they catch a deadly bug from one another.
That makes their romance all the more complicated, and chronically tender. They're stripped of what young teens desperately want to do with each other, so they improvise. it's what seals the deal mid-film and makes us long for more big-screen romances, no matter the scenario.
And then you know what hits next. We expect tragic moments, narrative high jinks and possibly the Grim Reaper. It's worse – a shamelessly manipulative final act that trashes the film's hard-earned trust.
We should be bawling. Instead, the eye rolls take over.
"Five Feet Apart" snags a PG:13 rating despite a few F-bombs. That language really should have been left behind. There's no way these teens don't drop curses now and then, but a little creative license is in order. The tenderness on display would be welcome with pre-teen viewers.
It's hardly a typical love story, but the kindness at its core is something everyone should see.
HiT or Miss: "Five Feet Apart" collapses during the schmaltzy third act, but until then it's as life-affirming as any recent romance.