Interviews
'Easter Sunday's' Jo Koy, Lydia Gaston: Comedy Can Unite Us All
Filipino culture gets rare close-up in new, family-centered comic romp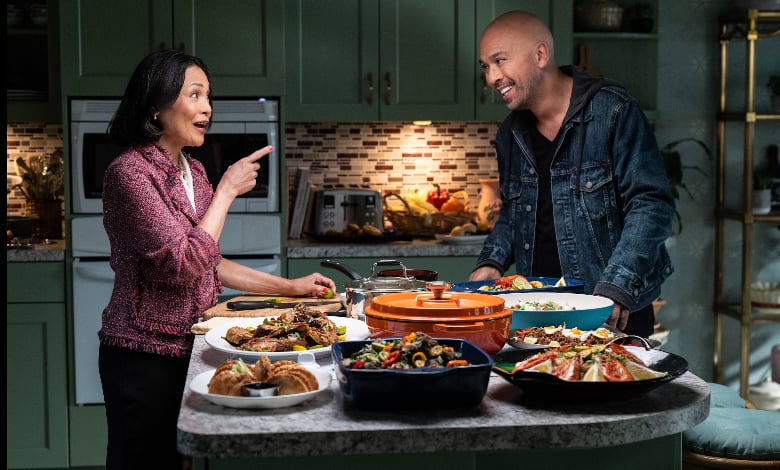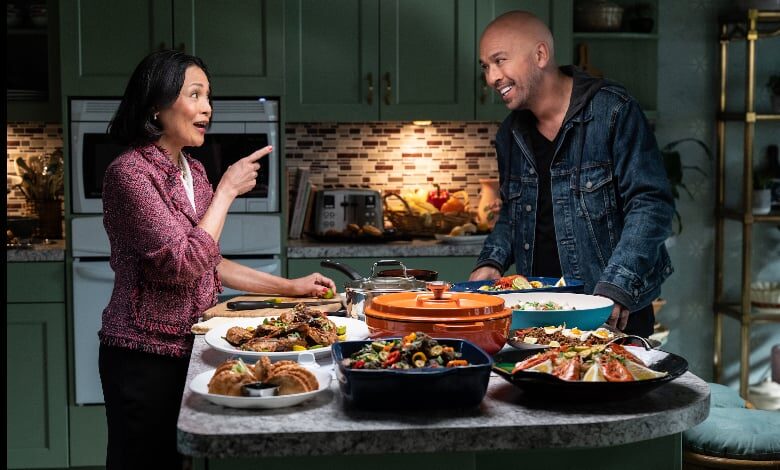 Jo Koy says he has the "G.O.A.T." behind "Easter Sunday," the comedian's attempt to bring Filipino culture to the big screen.
Legendary director Steven Spielberg reached out to the stand-up star after seeing Koy's Netflix special, "Comin' in Hot." The comedy event, like Koy's past stand-up material, showcased his affectionate look at his real-life mother.
Jo Koy Reveals How To Tell Asians Apart | Netflix Is A Joke
Spielberg saw something else in those routines – a feature film brimming with cultural flourishes rarely seen on the big screen. And, because he's Steven Spielberg, he helped make it a reality.
"[Spielberg] blessed this movie. He helped me choose the writers, the director [Jay Chandrasekhar of Broken Lizard fame] … he looked at every audition tape," Koy says of the hands-on filmmaker whose company, Amblin Entertainment, produced "Easter Sunday." "He brought us Lydia [Gaston, who plays Koy's mother in the film]."
Koy's real-life mother arrived in America in 1969, and her lovable quirks have fueled Koy's rise in the comedy world.
"Easter Sunday" pays tribute to that inspiration.
Easter Sunday | Official Trailer [HD]
Koy stars as a struggling actor and comedian trying to navigate family responsibilities and a chance at the role of a lifetime. It all happens around Easter Sunday, meaning his boisterous family gets a say in the character's next move.
When Spielberg asked him what kind of movie he'd like to star in, Koy didn't hesitate. He pitched the story that became "Easter Sunday."
"It's the day I remember so vividly as a child," Koy says during a Zoom interview with Hollywood in Toto. "Church was the community where my Mom felt seen. They all believe in one thing, Jesus. It wasn't about what color you are."
Koy's mother relied on her faith for more than just spiritual enlightenment. It helped her acclimate to her new home.
"Church is where she found her community," he says. "She didn't have Instagram or Facebook. She had to find other Filipinos herself, and she had church."
FAST FACT: Netflix initially turned down the chance to host a Koy comedy special. His self-made success eventually changed the streamer's mind. His fourth special is tentatively due for a late 2022 release.
Gaston's matriarch alternately guilts her son into spending more time with the family and scraps with her sister, played by "Wayne's World" alum Tia Carrere.
"I fight with my sister all the time," Gaston says, adding those personal experiences helped the actors fuel the improv-friendly takes on the "Easter Sunday" set.
"The characters in it are just so real and human," she adds, noting it puts less pressure on her to accurately represent a community that rarely gets a Hollywood closeup.
Asian-Americans are having a cultural moment thanks to breakout hits like "Crazy Rich Asians" and "Everything Everywhere All at Once," plus smaller films like "Minari."
Everything Everywhere All At Once back on the big screen in US and UK this weekend! https://t.co/EAFBJD9xdm

— A24 (@A24) July 29, 2022
Koy senses a sea change in entertainment culture, one he's more than happy to join.
"We're finally getting a chance to be heard and seen," he says, a far cry from when Hollywood turned a "blind eye" to some cultures.
Centering his film around Easter proved the perfect way to honor just that. And, along the way, offer something positive in our increasingly divisive times.
"We celebrate Easter just like you. We laugh and cry, just like you … the story is just about a mother and son trying to go through life. You'll relate to that," he says. "'We're just like them, so why are we separating ourselves?'"
No matter what happens at the box office, Koy predicts Hollywood's outreach to the Asian-American community won't be short-lived.
"['Easter Sunday'] is gonna keep this door wide open," he says.