Industry News
Opinion
Drea de Matteo Unloads on Fauci: 'The Real F***ing Mafioso'
'Sopranos' alum shreds Hollywood liberals for turning their back on freedom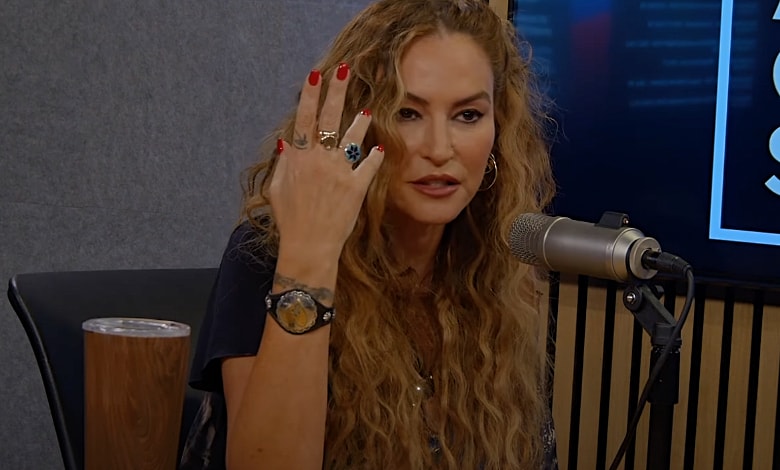 Actress Drea de Matteo says she initially considered Only Fans to share opinions, not share sexy pictures of herself.
Why?
She says her views would be instantly censored on most media platforms. She went on to show why during a raucous interview with podcaster Adam Carolla.
The "Sopranos" alum opened up about her curious career pivot, why the last three years have been so challenging for her and much more.
Long story short. COVID-19 red-pilled the self-described liberal. Big time.
She forged a quick kinship with Carolla, who also once leaned Left but now sides with conservatives on many key issues.
Free speech
Limited government
Trust the science (not the politicized version)
De Matteo generated plenty of headlines last month when we learned she had joined Only Fans. Why would an established star with dozens of credits spend time on a sexually suggestive site?
She told Fox News her agent dropped her for having unorthodox views on COVID-19.
The 51-year-old said much more to Carolla, a comedian who called out COVID-19 misinformation early and often and has been repeatedly proved correct.
The actress said watching her country, and especially her fellow Hollywood liberals, give up their freedoms during the pandemic alarmed her.
She saved special ire for Dr. Anthony Fauci, the government's pandemic front man and someone who pretends he didn't demand the country lock down during the outbreak.
But he did.
Fauci Denied Supporting Lockdowns, So Here Is 90 Seconds of Fauci Supporting Lockdownshttps://t.co/XmSVO8w3l1

— TedLak (@lak_ted) March 15, 2023
"They wanna f***ing do it all over again," de Matteo said about virus protocols, including mask dictates that ignore the growing body of evidence that masks do little, if anything, to help prevent exposure.
We're learning they may have done more harm than good.
A new study suggests that the excess carbon dioxide breathed in by mask-wearers can have major health consequences. The Harm Caused by Masks | City Journal https://t.co/EKuAGOWJ9f

— Jimmy Dore (@jimmy_dore) September 14, 2023
She hissed at Dr. Fauci without uttering his name.
"Public enemy number one, that other Italian. The real f***ing Mafioso …the little tiny Italian…. If there's ever been a f***ing thug," she said of Fauci, her voice trailing off in anger.
De Matteo says she doesn't label her political views, but it's clear she's a left-leaning soul given her stance on abortion, drugs and more. She still recoils at how her fellow liberals, particularly her Hollywood peers, reacted to the recent pandemic.
Fear. Paranoia. Close-minded hate. Sheep-like behavior.
RELATED: CAROLLA – MEDIA, BIG TECH RIGGED ELECTION FOR BIDEN
The actress further alienated her show biz peers by sharing her fondness for Tucker Carlson and disdain for mainstream media outlets. She even said the true renegades today hail from the Right, not the Left.
"You have to be a conservative in order to be someone who fights for freedom, to emulate the old hippie movement," she said.
Drea de Matteo on Leaving Hollywood & Only Fans + Director Dallas Jenkins' Success with 'The Chosen'
The actress also skewered Neil Young, the aging rocker who betrayed his free speech bona fides by attacking podcaster Joe Rogan.
Young alleged Rogan was sharing "misinformation" about COVID-19, ignoring two hard truths. Much of what Rogan said wasn't conclusively wrong, and many mainstream media outlets twisted the truth about the deadly pandemic.
CNN's Dr. Sanjay Gupta said Rogan took "horse medicine" to battle his COVID-19 infection, ignoring how Ivermectin earned a Nobel Prize for its effective treatment of countless humans.
"I cannot tell you how f***ing fast I stopped listening to Neil Young … at that time [Rogan] was gathering more information," she said of efforts led by Young to deplatform the comedian.
"Who the f*** do you think you are, old man? Old man, take a look at your mother f***ing life now," she added, quoting one of his classic hits.
"And he's Canadian, and these truckers have a convoy lined up and you're not fighting for the average man right now?" she added, alluding to a push to protest draconian government measures to fight the virus.