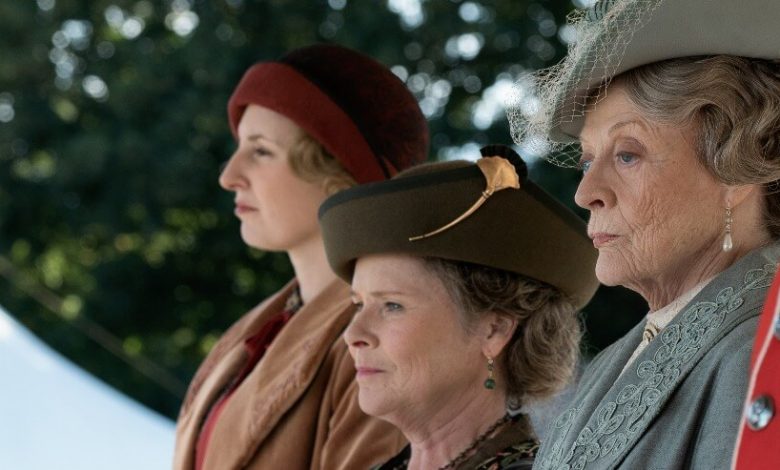 Confession time.
This critic hasn't seen a single episode of "Downton Abbey," the British import which captivated millions on both sides of the pond for six seasons.
Good thing Focus Features shared this 10-minute recap prior to the show's big-screen adaptation.
DOWNTON ABBEY - RECAP - Now Playing
All caught up? Good.
Now, let's share why "Downton Abbey" is more than a fan-friendly treat. For starters, it's gorgeous, a series of sumptuous interiors kept spotless by the story's sophisticated "help." Even better, it's catnip for those craving tart dialogue and an ensemble with no out-sized egos.
What could have been a craven cash grab becomes a spry franchise extension. There's no shared universe talk here, thank goodness, just banter that shames much of what's come to pass as movie dialogue these days.
DOWNTON ABBEY | Official Trailer | In Theaters September 20
We reunite with the show's cast just as major cultural news is breaking. The King and Queen are coming to Downtown Abbey!
Need a plot synopsis? That's pretty much it. The story follows all the machinations behind the visit, from servants eager to wait on royalty to the Crawleys musing on their place in a changing society.
It's the latter that hums not too far below the surface, but oh what a surface it is. The crackling ensemble brings it all to life, and for newbies the pleasures are considerable.
Americans may tut-tut any royal visit, but don't tell that to team Downton Abbey. They're delighted to bow and serve, assuming they'll get the chance. It's one of the minor frictions powering the story, one shared with enough emotional tells to leave a mark.
The overflowing cast, including Elizabeth McGovern, Hugh Bonneville, Michelle Dockery, Laura Carmichael and Allen Leech, is as sturdy as the estate's finest furniture. Cast member Lily James didn't make the leap to the big screen, alas.
Maggie Smith, returning as the fearsome Violet Crawley, redefines the term "scene stealer." She'll do more than that in the third act, though, a pivot that shows just how dynamic the show's template truly is.
"I never argue, I explain," she purrs at one point. Sublime.
This is frothy entertainment that doesn't skimp on the main ingredients. Dramatic corners aren't cut, nor do we get hackneyed twists mean to sustain our interest.
Plus, longtime fans will cheer moments meant specifically for them. David Chase famously alienated countless "Sopranos" fans with that show's nebulous cut to black.
Here? It's obvious longtime scribe and director, Julian Fellowes and Michael Engler, respectively, feel a debt to their audience. They shan't disappoint them.
FAST FACT: The "real" Downton Abbey is Highclere Castle, the massive estate where the series and feature film were shot.
One fascinating wrinkle? The royal visit means that many of the Downton Abbey staffers can take some time off. The King and Queen prefer to have their own "people" do their bidding, and that includes cooking and cleaning and other so-called drudgery.
The Downton Abbey staff won't stand for it.
They take pride in their work, their ability to rise to any occasion. The notion that they should stand down during the historic visit isn't just wrong. It's unthinkable.
Imagine modern workers taking the same approach, particularly stateside? Inconceivable!
We spoke with @jlunn13 about how he created that iconic theme, his musical influences, and how the filmmakers tasked him with introducing #DowntonAbbeyFilm with an extended musical sequence.

— Focus Features (@FocusFeatures) September 19, 2019
The story also offers a gay-themed subplot involving cast member Robert James-Collier. His butler, Thomas Barrow, explores his sexuality to a point, once again constrained by the prejudices of the era. What might have come off as woke, or worse, is part of the saga's natural progression. Just how will these characters interact with modernity?
The real wonder of "Downton Abbey" is how many movie goers will meet the Crawleys for the first time and, before too, long, start binging the series in toto.
HiT or Miss: "Downton Abbey" will be cheered by the show's faithful flock, but newbies will similarly be rewarded.