Interviews
Artists
'Molly Brown' Writer: 'Unsinkable' Heroine Remains Uniquely American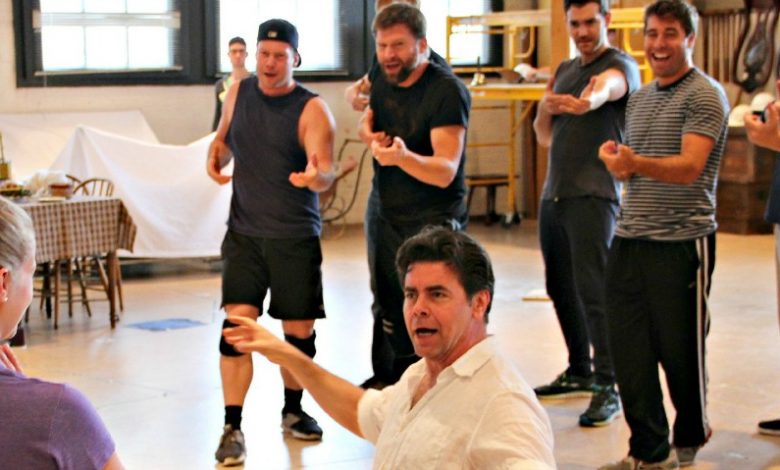 The man who wrote the book and additional lyrics for the new version of "The Unsinkable Molly Brown" tells HollywoodInToto he suspected some songs Willson wrote but never widely released still existed. But when he approached Rosemary Willson, the widow of the artist best known for "The Music Man," she resisted sharing all she knew.
Fellow Broadway veteran Michael Feinstein eventually intervened, gently asking her about any songs still unproduced from her husband's canon.
"She felt overwhelmed. It's a big step to let someone rework one of her husband's shows," Scanlan says. "It was hard for her to come to terms with that."
Turns out Willson's widow had organized her late husband's work "spectacularly well," says Scanlan, who previously penned the book and lyrics for 2002's Tony-winning "Thoroughly Modern Millie."
Scanlan, finally able to access those archives, rolled up his sleeves and got to work.
"Each file had every draft of that song," he says. "Any song I thought lyrically could be part of a place called 'Unsinkable Molly Brown' was considered."
From that batch of drafts he chose many tunes currently populating the musical, playing through October 26 at The Stage Theatre in Denver.
Director Kathleen Marshall on the Denver Center's "Unsinkable Molly Brown"
The production, a reboot of Willson's beloved 1960 show, captures a Colorado legend who survived the Titanic's maiden voyage, the gold rush and a combustible romance.
Rosemary Willson died in 2010 but she did attend an early Denver reading of "The Unsinkable Molly Brown" in 2009 and later endorsed the production, Scanlan says.
"Brown" arrives with the full backing of Robert Greenblatt, the chairman of NBC Entertainment who is serving as a show producer.
"He has loved the Molly Brown story since long before I met him," says Scanlan, who would go over the production with Greenblatt "line by line" to make sure details were just right. "There's something about that character that [he found] so riveting … I'm just gonna go out there and make it happen. That's Bob to a T."
Scanlan says Molly Brown reflects the nation's character in a way that lets her transcend generations.
"She's got this enormous impulse to change the world for the better and very strong ideas of what's right and what's wrong. She charges in and tries to make things what she thinks is right," he says. "Unfortunately that can also get you in trouble."
Sometimes what you think is the right thing isn't what other people think is right," he adds, alluding to the country's foreign policy choices in recent years.
"Her greatest quality was the generous kind of integrity she had. It also made her presumptuous," she says.
Mile High Expectations Met
Scanlan arrived in Denver five years ago for the reading. He quickly fell in love with the Denver Center for the Performing Arts as well as Denver's creative spirit.
"The city is vastly exceeded my very high expectations," he says. "It's as good as anything I've experienced in New York."
That made following his muse easier.
"I always wanted to launch ['The Unsinkable Molly Brown'] in Denver. I made the decision before the first draft. I had a strong, intuitive feeling it as the right institution and the right city."
DID YOU KNOW: Dick Scanlan's off-Broadway output includes the novel "Does Freddy Dance" published in 1995 as well as contributing articles for The New York Times, The New Yorker, Vanity Fair, The Village Voice and many other publications.