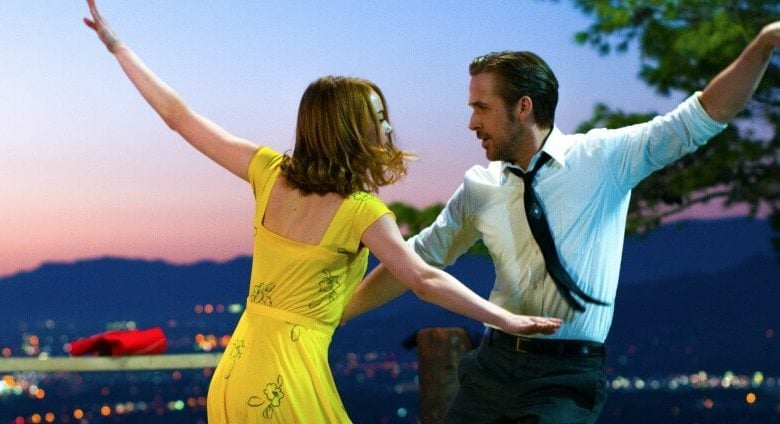 The enchanting musical "La La Land" is conquering the early awards season. Not so fast, say Denver-area film critics.
The Denver Film Critics Society, which this reporter co-chairs, celebrated the musical this week with seven nominations, including Best Picture, Best Director and Best Actress.
The Colo.-based group also honored "Arrival" with seven nominations, including a nod for the best "Sci-Fi/Horror" film.
Other Oscar-friendly features, "Moonlight" (six nominations) and "Manchester By the Sea" (five nominations) should give "La La Land" stiff competition for the group's final awards.
The DFCS winners will be announced Jan. 16.
Below is the full list of DFCS nominees for 2016:
Best Picture:
* "Manchester By the Sea"
* "La La Land"
* "Moonlight"
* "Arrival"
* "Silence"
Best Director:
* Damien Chazelle, "La La Land"
* Barry Jenkins, "Moonlight"
* Kenneth Lonergan, "Manchester by the Sea"
* Martin Scorsese, "Silence"
* Denis Villeneuve, "Arrival"
Best Actor:
* Casey Affleck, "Manchester By the Sea"
* Denzel Washington, "Fences"
* Andrew Garfield, "Hacksaw Ridge"
* Adam Driver, "Paterson"
* Tom Hanks, "Sully"
Best Actress:
* Ruth Negga, "Loving"
* Annette Bening, "20th Century Women"
* Amy Adams, "Arrival"
* Natalie Portman, "Jackie"
* Emma Stone, "La La Land"
Best Supporting Actor:
* Jeff Bridges, "Hell or High Water"
* Mahershala Ali, "Moonlight"
* Aaron Taylor-Johnson, "Nocturnal Animals"
* Timothy Spall, "Denial"
* John Goodman, "10 Cloverfield Lane"
Best Supporting Actress:
* Viola Davis, "Fences"
* Naomie Harris, "Moonlight"
* Michelle Williams, "Manchester By the Sea"
* Octavia Spencer, "Hidden Figures"
* Nicole Kidman, "Lion"
Best Animated Film:
* "Moana"
* "The Red Turtle"
* "Zootopia"
* "Kubo and the Two Strings"
* "Finding Dory"
Best Science Fiction/Horror Film:
* "Arrival"
* "Rogue One: A Star Wars Story"
* "10 Cloverfield Lane"
* "The Witch"
* "Doctor Strange"
Best Comedy:
* "Hail, Caesar!"
* "Deadpool"
* "The Nice Guys"
* "Don't Think Twice"
* "The Hunt for the Wilderpeople"
Best Original Screenplay:
* Damien Chazelle, "La La Land
* Kenneth Lonergan, "Manchester By the Sea"
* Taylor Sheridan, "Hell or High Water"
* Guy Hibbert, "Eye in the Sky"
* Yorgos Lanthimos and Efthym Filippou, "The Lobster"
Best Adapted Screenplay:
* Barry Jenkins, "Moonlight"
* Eric Heisserer, "Arrival"
* Patrick Ness, "A Monster Calls"
* Tom Ford, "Nocturnal Animals"
* Allison Schroeder and Theodore Melfi, "Hidden Figures"
Best Documentary:
* "OJ: Made in America"
* "13th"
* "Weiner"
* "I Am Not Your Negro"
* "Gleason"
Best Visual Effects:
* "Arrival"
* "Rogue One: A Star Wars Story"
* "Doctor Strange"
* "The Jungle Book"
* "A Monster Calls"
Best Original Song:
* "Sing Street," "Drive It Like You Stole It"
* "La La Land," "Audition"
* "La La Land," "City of Stars"
* "Hidden Figures," "Runnin'"
* "Trolls," "Can't Stop the Feeling"
Best Score:
* Justin Hurwitz, "La La Land"
* Mica Levi, "Jackie"
* Nicholas Britell, "Moonlight"
* Hans Zimmer, Pharrell Williams and Benjamin Wallfisch, "Hidden Figures"
* Johann Johannsson, "Arrival"
Best Foreign Language Film:
* "Elle"
* "Neruda"
* "The Salesman"
* "The Handmaiden"
* "Toni Erdmann"