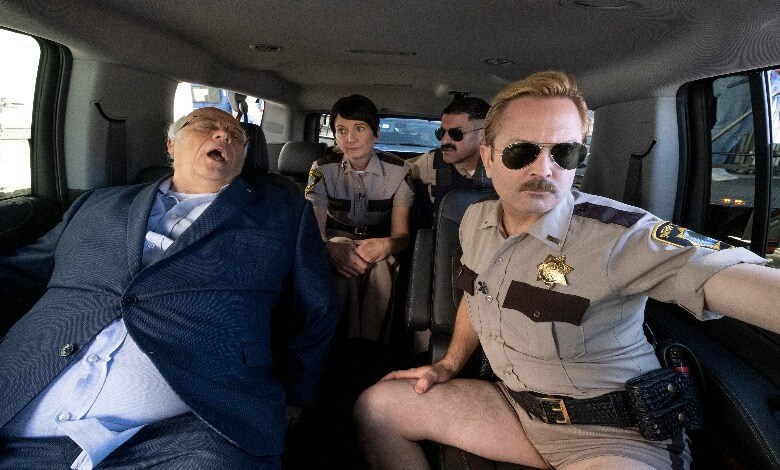 Quibi has had a rough go of it since its launch last month.
If you haven't heard of the platform, don't worry. Besides the fact that it was released in the middle of a pandemic, Quibi did a poor job of introducing itself to the world.
Ads for the service were cringeworthy attempts to turn its name into something catchy. That only brought back memories of a certain character informing another in "Mean Girls" that "fetch" just isn't going to happen.
Did I just reference "Mean Girls?" Yeah, do something about it.
News coverage of the platform mostly explored the billions invested into the company versus its low mark on the iTunes app charts.
Quibi has already been put into a turnaround of sorts. Producers are rushing content onto YouTube for free, as well as promising a television app for their originals. In true "boomer trying to be hip" fashion, they thought it's wise to limit folks to only watching shows on their iPhones.
Let's take a step away from the negativity and talk about something very few are noticing — Quibi has some unique and sometimes great content to share. Ignore the tech and advertising problems, and what you're left with is an experimental platform for filmmakers.
The challenge is telling a long-form, binge-worthy story in five to 10-minute bites.
It's brought out some interesting material from content creators, and some of the best Quibi shows so far hail from very significant artists. Here's a look at three series on Quibi well worth small bits of your time.
'Reno! 911'
Quibi's most noteworthy series thus far revives the "COPS"-style comedy that ran for six seasons on Comedy Central. "Reno! 911" is as funny as ever, and Quibi is actually a perfect fit for it.
A show like "Reno!" doesn't need 20-plus minutes to tell its story. The show's only goal is to feed the audiences various scenarios packed with satirical punches. The fact that it's lived on mainly in short clips on social media and YouTube shows that it's been waiting for someone to give it a revival just like this.
Even though it's been a decade since the show was on television, Thomas Lennon and company fall into step quickly and, after a few seconds, you'll forget this comedy ever disappeared.
. #Reno911 coming #MayTheFourth to @Quibi pic.twitter.com/VyOdVR2VX4

— Thomas Lennon (@thomaslennon) April 29, 2020
'50 States of Fright'
If you're a Sam Raimi fan and you haven't downloaded a free Quibi trial then shame on you. He not only produces "50 States of Fright," but he directed the first three episodes, which are the best of the bunch thus far.
The series has a pretty solid premise for an anthology series — every three episodes tackle an urban legend from a different state.
The first set takes place in Michigan and follows a logger with a wife he loves but can't afford. She goes through a terrible accident and then is affixed with a golden arm that is literally killing her.
It sounds crazy, but Raimi does it justice. He sets a perfect tone for the series by telling his story through both a friend recalling events and short bits between man and wife. The ending is a bit unearned, but the rest is pure Raimi gold.
Add to that a rich premise for horror filmmakers, and you have a clever creation that can use Quibi's short-form storytelling style to its advantage.
'Most Dangerous Game'
The show is one of two major Quibi series from writer Nick Santora (TV's "Scorpion"). Both this and the remake of "The Fugitive" have been sold more as feature films cut up into 10 minute-or-less segments. While "The Fugitive" has yet to premiere (the trailer inspires little hope), "Most Dangerous Game" is well-worth a watch.
It's a play on a story we have seen many times before — rich man hunts poor man for sport — but cut up into short bits gives it a different edge.
Santora and company are forced to rethink the premise and present it in a way where nearly every chapter feels like a sprint. Watched uncut as a feature film, this may make for jarring storytelling, but taken in sections it feels more like an airport thriller that doesn't take long to suck you in each time you crack open the covers.
There's nothing groundbreaking happening here, but this is a solid effort with only a few glaring flaws. Liam Hemsworth makes for a suitable action lead, Christoph Waltz is his typical suave, evil self and the killers in a race to end the life of our main character in a 24-hour period pique our curiosity.
A lot more could be done with the premise, but this is a solid introduction to the world. It may not break too many rules, but it's able to bend enough thanks to the way it's presented. If you've enjoyed similar movies in the past ("Hard Target," "Surviving the Game"), this is a strong addition to the genre.
---
Zachary Leeman is the author of the novel "Nigh" and has written for publications such as Breitbart News, LifeZette, BizPac Review, and RT.