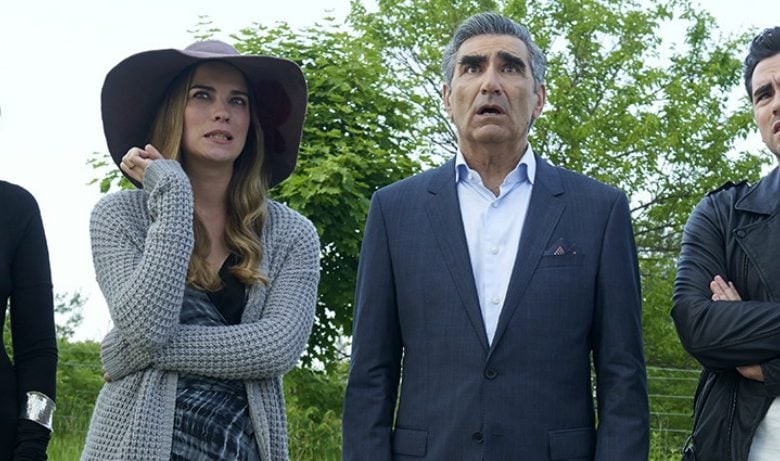 Only the Canadian comedy "Schitt's Creek" – yes, it's pronounced like you think – doesn't have its heart in it. Instead, "Schitt's Creek" treats its riches-to-rags characters with heart, sympathy and tons of humor.
Created by Eugene Levy and son Daniel Levy, "Schitt's Creek" doesn't get the press overrated fare like "Unbreakable Kimmy Schmidt" and "Master of None" receive. That's a shame. Let's not compare streaming apples to oranges. Just know "Schitt's Creek" is the best comedy you're not watching.
Schitt's Creek Season 1 Trailer
Eugene Levy and Catherine O'Hara star as Johnny and Moira Rose, an affluent couple forced into poverty after a tax lien is placed on their assets. They end up living in a property they once bought as a lark, the tiny town of Schitt's Creek.
They aren't alone. Adult son David (Daniel Levy) can't process the fact that his family is suddenly poor. Alexis (Annie Murphy) is a cross between Kim Kardashian and Veruca Salt.
Together, they live in a seedy motel while trying to maintain their dignity. Good luck with that, especially with the town mayor (Chris Elliott) standing in their way. Accidentally, of course.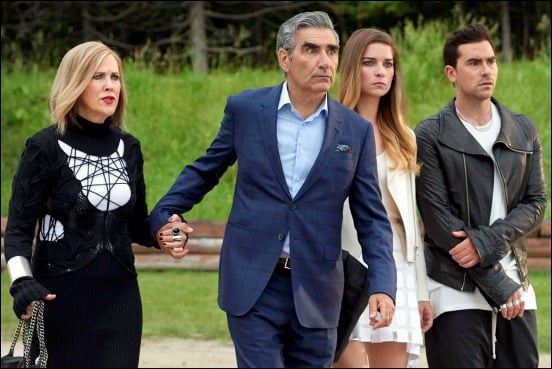 It can take a season or three before some actors lock into their roles. Re-watch the first season of "Sons of Anarchy" as a reminder that even great dramas demand time to blossom.
The four "Schitt's Creek" leads are locked in from the opening gag. Even when the writing takes a slight dip their distinct characters make the jokes zing. Simply watching them interact gives a quiet buzz of pleasure.
RELATED: 'Annie' Remake Takes Pot Shots at the Rich
We knew what Levy and O'Hara can do, starting with their SCTV days. The revelations are Daniel Levy and Murphy. We should be rallying around David's fall from grace, but Levy won't allow it. For all his pompous behavior he's wounded and small. His interactions with the motel's no-nonsense manager (Emily Hampshire) let him grow in modest but measurable ways.
You may despise Kim Kardashian, or at least her pop culture incarnation. You won't feel the same about Alexis. Murphy makes her as arrogant and self-obsessed as required, but she, too, has a soft side that slowly reveals itself.
FAST FACT: Sarah Levy, daughter of Eugene Levy and sister of Daniel Levy, plays a small recurring role in "Schitt's Creek."
The show revels in its "fish out of water" premise, spinning it in ways that could yield a long, fruitful run. Consider David's reaction to his first turkey shoot, or the sight of Alexis, in fashionable short-shorts, stabbing trash alongside a hunky hippie.
The potential is endless, and so far "Schitt's Creek" is making the most of it.
Schitt's Creek - Season 1 Bloopers
The writers mock the Roses' wealth cocoon, but rarely at the expense of small town denizens. The fine folks of Schitt's Creek aren't rubes. They embrace life's simple pleasures, and they're comfortable in their own skin.
"Schitt's Creek" is currently in its second season on CBC Television. The show's first season is available now on Amazon Prime as well as Pop TV. Comcast TV subscribers can access episodes via the company's "On Demand" service. "Schitts Creek S1
" also is available on home video.