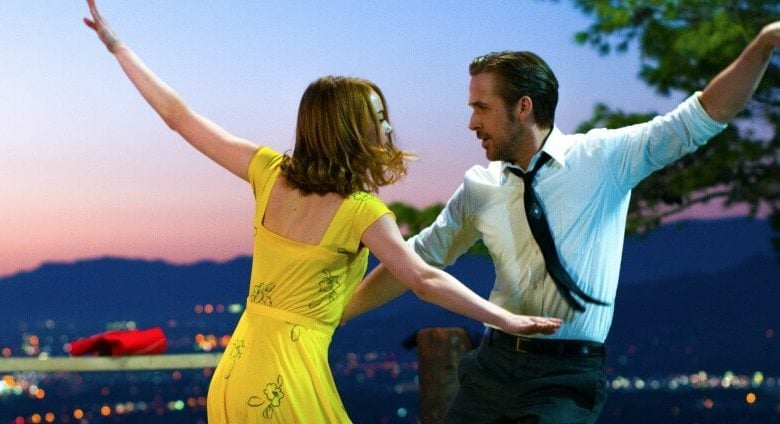 Hollywood's annual product placement coup may be a bust. Again.
The 89th annual Academy Awards should be a victory lap for a surprisingly strong film year. Hollywood delivered a dazzling, 21st century musical ("La La Land"), a fact-based civil rights triumph ("Hidden Figures") and a cerebral sci-fi yarn with a bittersweet third act ("Arrival").
La La Land (2016 Movie) Official Trailer – 'Dreamers'
All three were hits with audiences and critics.
Yet what most of us will be talking about Monday won't be an invigorated movie business.
It'll be enduring another long, and dull, Oscar ceremony. Or, how we heard speeches honoring films we haven't heard of and will never, ever see.
And, of course, how partisan politics clotheslined all that Hollywood glamour.
Making a Dull Show Even Worse
Oscar viewers have grown numb to the first two problems. Every year, the event's producers vow to shake up the staid formula. Yet the finished product is more or less the same. The ceremony goes on forever, the tone too self congratulatory. We're left waiting until midnight EST, or later, to learn who won the biggest prizes.
After tonight, we might look back on those bore-fests as "the good ol' days."
By all indications, Sunday's Oscars will be the most politically charged ceremony … ever. For weeks we've watched stars turn the "other" awards galas into DNC pep rallies. The Golden Globes (Meryl Streep versus football). The SAG Awards (the cop from "Stranger Things") and the Grammys (a third of the performers?).
Stranger Things Cast: Acceptance Speech | 23rd Annual SAG Awards | TNT
The Oscars producer all but begged the honorees to get political recently. Legendary author John Irving did the same from his Hollywood Reporter pulpit.
Does anyone think that game plan won't rule the night? If so, it would be a shame.
The Academy Awards presentation is meant to showcase the very best of Hollywood. Instead, it will be a televised temper tantrum, leaving roughly half the nation furious … and less likely to buy tickets to the stars' next films.
Just what are the actors trying to prove, anyway?
Remember Nov. 8?
Those presidential votes have been counted (and, in some cases, recounted). Hillary Clinton is now wandering the woods firing off snarky Tweets when the nearest cell tower lets her. For better or worse, we cast a reality show star as Commander in Chief.
More importantly, we know exactly where the industry stands on the Trump Administration. Could the collective speeches change a single heart or mind?
A wise man once said, "elections have consequences."
The night's only shock would be to hear someone say, "hey, let's give the new fella in the White House a chance." There's a better chance Oscars host Jimmy Kimmel will tear into Clinton's face plant of a campaign than hear those words spoken.
Can the Oscars Be Fixed?
So what should Team Oscar do?
No producer can silent the stars at this stage. The suits could still remind them the Oscars are meant to promote the film industry, not their pet causes. Perhaps they should act accordingly?
You know, like adults?
Even better, why not play the "hey, get off the stage" music whenever a winner starts a political rant.
As for the rest of the show, it's time to hand off some awards in a separate ceremony. Ninety eight percent of viewers have no interest in the Best Animated Short or Sound Mixing nominees. That doesn't diminish the craft in play. Audiences simply aren't engaged enough to care.
Why not drop the "In Memoriam" segment, too? The public mourns celebrities via social media now, and the process is both emotional and sincere. The Oscars segment has its heart in the right place, but it usually sparks a skirmish over who was left off and the compulsion to applaud a particularly beloved star.
Neither serves the subjects well.
Nicholson, Not  Efron
The event also should stop pleading for younger viewers to watch. This is the night where Hollywood's brightest can dazzle us anew. We want to see Hoffman, Dench, Nicholson and Poitier. How about leaving the 20-somethings with two and a half film credits home?
And think twice before staging yet another musical number. Sure, a snippet from "La La Land" would be appropriate, but why pay homage to the genre when only one film from all of last year represented it?
Oscar ratings have been sinking for some time. Last year's show saw ratings slump to an eight-year low.
You can blame an increasingly splintered audience. It's equally true that viewers have grown tired of the status quo. The ratings could fall even faster Sunday. It's hard to imagine red state viewers are prepping their Oscar pools for the big night.
They'll likely watch anything else, assuming it doesn't directly insult their values.
It's not too late to save the Oscars. If this weekend's telecast is as political as we expect, though, it may take years to undo the damage to the tattered brand.