The Parents Television Council has plenty on its plate these days.
The group's mission, warning parents about vulgar and offensive television content, got more complicated when broadcast channels eagerly added adult material like fisting and anal sex into their mainstream programs.
Which brings us to FX's "Sons of Anarchy."
The biker series, starring Charlie Hunnam as the head of a law-breaking motorcycle club, represents one of the grittier viewing experiences on any channel. Death. Sex. Rape. Violence. Any given episode has that and sometimes more.
The show's recent, sex-filled episode inspired the PTC to release a blistering attack on Kurt Sutter's creation:
Last week's episode of 'Sons of Anarchy' opened with the most sexually explicit content we've ever seen on basic cable, content normally found on premium subscription networks like HBO or Showtime.
PTC President Tim Winter went on, saying "families should not be forced to underwrite pornography" due to how the current cable systems operate.
Winter is right. Too many cable patrons are forced to support content that doesn't align with their values in order to see other channels they actually watch. It's a bad system, and the rise of streaming alternatives may eventually crush it. Attacking "SOA" isn't the best way to address the matter of inappropriate TV content, though.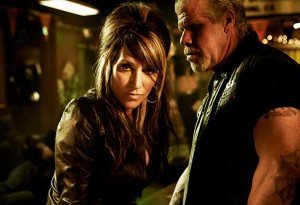 It all comes down to expectations.
No one tunes in to "SOA" anticipating family-friendly fare. They want to be shocked, and more often than not the show delivers.
It's why there was such an outcry over the 2004 "wardrobe malfunction" at that year's Super Bowl halftime show. Audiences tuned in to see gridiron theatrics suitable for all ages. When they got a racy musical number highlighted by an errant nipple they reacted harshly.
The battle to keep inappropriate material away from young children is an important one. Picking the right battles, though, is just as crucial.
DID YOU KNOW: 90 million people watched Janet Jackson's performance during Super Bowl XXXVIII. Both Jackson and fellow performer Justin Timberlake later apologized for the brief nudity.