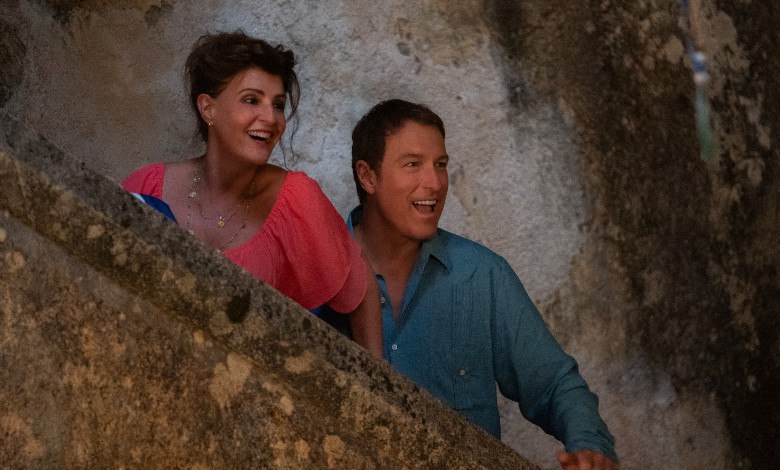 We didn't need a third helping of the "Big Fat Greek Wedding" franchise.
Series star and creative force Nia Vardalos doesn't argue otherwise. Her third film in the saga, which she wrote and directed, is another excuse to celebrate Greek culture and share mini-stories from the Portokalos clan.
Your appetite for the threequel depends on a willingness to accept sub-sitcom gags and plot developments with little heft or gravitas.
MY BIG FAT GREEK WEDDING 3 - Official Trailer [HD] - Only In Theaters September 8
The threequel opens with the family's aging matriarch (Lanie Kazan) detailing the film's plot. Toula (Vardalos) and her brood must jet to Greece so they can share the patriarch's journal with his childhood friends.
Kazan's character literally says this out loud.
So off they go, visiting the land where Papa Gus (the late Michael Constantine) once roamed, eager to fulfill his dying wish.
Except the story isn't laser focused on that plotline. Instead, we're treated to lighter-than-air subplots which often resolve themselves in minutes.
Will Toula's daughter Paris (Elena Kampouris) rekindle her interest in an old flame?
Can Uncle Nick (Louis Mandylor) trim his body hair and nails in every room of the vacation house?
Will we see someone break out the Windex bottle, again?
Running gags abound, and while none overstay their welcome they don't draw many laughs the first time around. The humor here is obvious, broad and inconsequential. The original film, as corny as it was warm, delivered big belly laughs.
The franchise no longer even tries to match that feat.
The Greek vistas are wonderful and for some worth the price of admission. Still, the country has been showcased to greater effect in other films – even 2020's "The Trip to Greece."
The Trip To Greece - Official Trailer I HD I IFC Films
Vardalos' direction is perfectly suited to the material … and that's neither a compliment nor a dig. her on-screen husband John Corbett looks either distracted or bored at times, as if he got the reunion invite but wasn't sure what to make of it.
We also get endless hugs, cute nods to Greek culture and the biggest question of all. If the extended brood loves Greece so much, why did it take three movies to visit the actual country?
Andrea Martin does what she can to steal her scenes as Aunt Voula, but the screenplay does her few favors.
A few moments connect, like Toula and Nick discussing who should be the "head" of the family now that their father is gone. It's a moment the actors sell with quiet dignity.
The film offers a soupcon of woke in the form of Victory (Melina Kotselou), the Greek town's mayor who happens to be non-binary. The script, again, screams its intentions during one clunky sequence. That's where the woke starts and happily stops.
It's hard to get grumpy about a generic sequel like this third "Wedding." The cast is having a blast and the sense of camaraderie is profound. Plus, it's still rare for a mainstream comedy to toast Greek culture nearly 20 years after the first "Wedding" rocked Hollywood.
HiT or Miss: "My Big Fat Greek Wedding 3" offers another round of amiable chaos from Toula and company, an agreeable tale that's impossible to hate but easy to forget.