Reviews
Movies
HiT Classics
'Animal House' Is Even More Offensive in Our PC Age
The classic college comedy is under attack from the usual suspects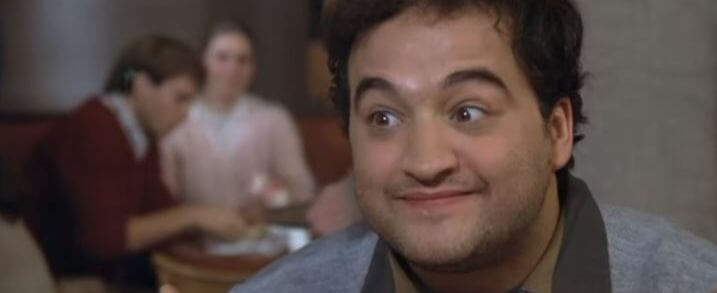 Forty years ago a filthy little film was unleashed upon the world.
This movie would go on to make back its meager $3 million budget 47 times. That made it one of the most profitable films ever made. By comparison, the mega hit "Black Panther" made back its budget just six times.
This movie, of course, was "National Lampoon's Animal House."
Bluto's a Zit - Animal House (5/10) Movie CLIP (1978) HD
I had not seen it until I realized that the film's 40th anniversary was upon us. It's almost a decade older than I am and it always looked both stupid and predictable. But now I have now seen it more times than it's right to admit in polite company.
And it is stupid. It is predictable. It's disgusting. It's probably more offensive today than it was in the 1970s. It's also absolutely hilarious.
RELATED: This 'Animal House' Alum Is Totally Wrong About the Hit Comedy
"Animal House" became the template for dozens of scatalogical, sophomoric comedies. It's the story of the grossest, stupidest and most pointless fraternity in existence. Which is basically Delta House's only raison d'etre. The Dean puts them on trial for being a public nuisance and outright embarrassment to the college and their opening argument is:
"The Delta House has a long standing tradition of existence."
Which Jonah Goldberg has rightly pointed out is a profoundly Burkian argument.
FAST FACT: Belushi's fellow "Blues Brother," Dan Aykroyd was originally slated to play D-Day in the film. The role eventually went to veteran actor Bruce McGill.
Besides mild pre tensions to Burkian Conservativism there is nothing redemptive in this movie. It is one of the few pieces of evidence in support of Robert Tracinski's theory that comedy is not didactic. Because this is a great comedy and there is simply nothing going on upstairs. Nothing interesting or thought provoking is happening to the Delta House crew. It's essentially the worldview of a middle school boy.
I had forgotten how much fun it was to BE a middle school boy.
But this isn't about the immature sexual nature of the movie as much as its sheer absurdism. I've often heard Monty Python condemned as middle school humor. To which I say, "Huzzah" for MS boys.
By comparison "Porky's" is a very bad film that came out three years after "Animal House." Director Bob Clark's hit comedy has not aged well. Sex comedies in general tend not to age well. The "American Pie" franchise being a prime example.
Their comedic elements are based purely on what's shocking at that particular moment in time, not what is actually funny.
Bluto's Big Speech - Animal House (9/10) Movie CLIP (1978) HD
"Animal House" belongs more in the grand absurdist tradition of the Marx Brothers, the Keystone Cops, "It's a Mad, Mad, Mad, Mad World" and "Smokey and the Bandit." Yes there are lots of breasts in this film but they aren't a source of comedy. They're there to do one of the things God designed them to do, assuredly an objectified misuse in this case, attract the gaze of men.
Objectification of the fairer sex aside, compared to my first encounter with "National Lampoon's Animal House" is downright clever and almost elegant.
I was a high school sophomore when late one school night some friends and I decided to watch the extremely sophomoric sex obsessed "Van Wilder."
"Animal House" became the template for dozens of scatalogical, sophomoric comedies.
I grew up in the Philippines and, at that time, their standards for admitting underage people to the movies were lax, to put it mildly. As a relatively sheltered Evangelical I thought it was the most hilarious and reviling thing I had ever seen.
Children of missionaries are often naive. And that film has not aged well, much of its comedy is based in sheer grossness.
"Animal House" would have certainly been gross and shocking to late '70s audiences. But it's comedy is not reliant about shock. Its laughs are generated through absurdist wise crackery.
John Belushi's disgusting, troglodytic Blutarsky is the most iconic thing about "Animal House." And his performance is hilarious. But all the performances are basically spot on. Especially the "straight men." Ensemble comedy doesn't work without unfunny counterpoints. Mel Brooks needed Carl Reiner. Sean Connery wouldn't be funny without Alex Trebek.
FAST FACT: The film's short-lived TV spinoff, "Delta House," featured the small-screen debut of Michelle Pfeiffer as the "The Bombshell."
Between John Vernon's stodgy Dean and Mark Metcalf's Hitler youth like Neidermeyer Delta House has some of the best humorless saps upon which to foist their shenanigans.
The comedy seems insensitive in the post #MeToo era, especially given the widespread belief in the myth of campus rape culture. The women of "Animal House" are always portrayed as enthusiastic participants in the debauchery.
Blutarsky's voyeurism scene being the notable exception.
And while voyeurism is morally revolting the scene doesn't end well for Belushi's character. In fact the joke really is on him. It highlights how pathetic and disgusting he is.
Also important?
Unsolicited gazing is a far cry from unwanted touching. It's still reprehensible, of course.
RELATED: Is National Lampoon 2.0 Going Woke … Already?
One character even has a literal conversation with his shoulder Angel and Demon over whether or not he should take advantage of a passed out girl. He sides with his inner Angel, unceremoniously taking her home in a shopping cart.
The very fact that he had the opportunity would be seen as tres unwoke today. And it's not as if he's a hero for doing the right thing. Still, "Animal House" is not romanticizing rape culture. If it romanticizes anything its sheer stupidity.
"Animal House" is turning 40. In Oregon, a toga party is planned. Off campus https://t.co/daWY1VWkfn pic.twitter.com/MskW1oY21T

— Los Angeles Times (@latimes) August 12, 2018
The 40-year-old "Animal House" can be added to the increasing list of great comedies that couldn't be made today.
One of the funniest lines, "the Negroes stole our dates," would be viewed as insanely racist today. When in fact the scene that culminates in that moment is more an indictment of milquetoast WASP-ish manliness in the face of some normal working class black men.
It's critical to note that while the movie hit theaters in 1978 the story is set in 1961, when racial attitudes were far more crude.
There's no deceptive nostalgia at play in "Animal House's" enduring apeal. Just make sure to put it on the same, "too offensive" shelf that contains "Blazing Saddles" and "Tropic Thunder."
---
"A.C. Gleason is a proud Biola University alum, where he met his wonderful wife. He earned his MA in philosophy of religion from Talbot. You can find more of his writings on Medium and ricochet.com. Follow him on Twitter @ac_gleason.