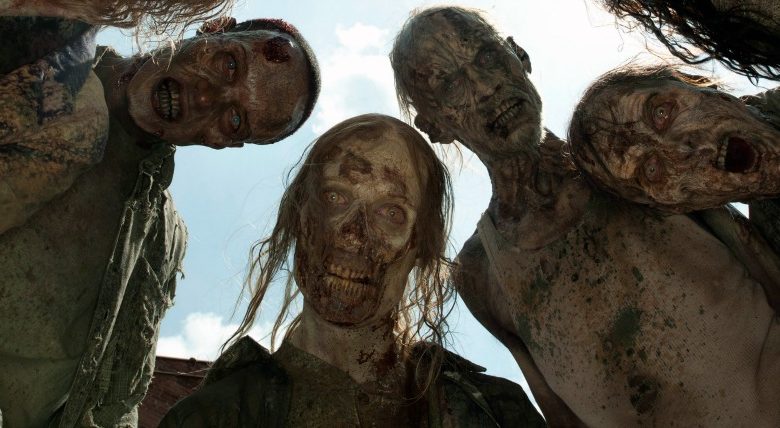 The zombie series not only continues to draw big ratings during its fifth season, it now regularly brains NBC's "Sunday Night Football."
Deadline.com reports the undead drama snared a 7.3 rating among adults 18-49 Sunday versus the 6.2 rating New England Patriots earned by trouncing the Indianapolis Colts.
Consider these three reasons why "TWD" refuses to rot over time:
"The Talking Dead" – AMC wisely concocted a post-show chat series to let fans ruminate over the latest revelations. Add a chipper host who acts as the audience's surrogate, Chris Hardwick, and you have the perfect companion piece that doubles as a brand extension. The show's eclectic guest panelists, like Conan O'Brien, make this a geek-friendly show with teeth.
Bonus Scene: Talking Dead: Episode 506
Behind the Scenes – Not only does "TWD" let the show's creative team explore the origins of various story lines, the commercial breaks let viewers learn even more about the creative process. How many shows highlight the hard work of their musical talent in shaping the finished product? These snippets, similar to the Blu-ray extras consumers have come to expect, turn boring commercial breaks into tiny, must-see moments. Here's betting the show's sponsors are downright giddy over this development.
Maxing Out on Television's New Rules – "TWD" offers two mini-seasons back to back equaling less than the number of episodes a standard broadcast show delivers. That means each season offers the potential for one, if not two, cliffhanger endings. Plus, fans can participate in the show's conversation via an AMC app designed to enhance viewer engagement. In short, AMC is doing all the right things to promote the show above and beyond putting out a high-quality product.
Correction: An earlier version of the article incorrectly identified the channel broadcasting "Sunday Night Football."